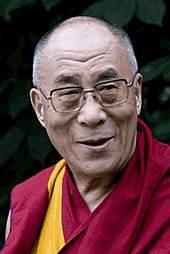 China has objected to the proposed trip of Dalai Lama to Arunachal Pradesh in November but India has made it clear that the Tibetan spiritual leader was free to travel anywhere in the country.
The Dalai Lama intends to travel to Arunachal in the middle of November, which the Tibetan government-in-exile says has nothing to do with politics.
Commenting on the development, Chinese Foreign Ministry voiced 'strong concern', saying it 'further reveals the Dalai clique's anti-China and separatist essence'.
Foreign Ministry spokesperson Jiang Yu said, "We firmly oppose Dalai visiting the so-called 'Arunachal Pradesh'."

When contacted, Chinese Embassy in Delhi drew attention to the statement made by the country's foreign ministry on the issue and did not go further.
India felt the Chinese objections are unwarranted and the Tibetan leader is free to travel anywhere in the country.

"There are no restrictions on travel of the Dalai Lama in India," official sources said in New Delhi when asked to comment on Chinese opposition to his visit.
China lays claim to entire Arunachal Pradesh and had objected when Prime Minister Manmohan Singh undertook a visit to the state three years back and President Pratibha Patil earlier this year.