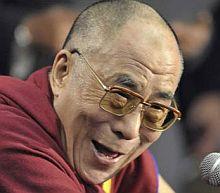 US President Barack Obama will not meet Tibetan spiritual leader Dalai Lama when he visits Washington this week, sending signals that US is sensitive to Chinese concerns on the issue.
President Barack Obama who is scheduled to undertake his first visit to China next month has apparently decided not to meet the Dalai Lama so as not to annoy Beijing.
"The US pressured Tibetan representatives to postpone a meeting between the Dalai Lama and President Obama until after Obama's summit with his Chinese counterpart, Hu Jintao, scheduled for next month," Washington Post reported on Monday.
The Dalai Lama has met every sitting US president since George Bush senior in 1991. China accuses the Dalai Lama of being a "splittist" aiming to separate Tibet from it. The last time Dalai Lama was here, in 2007, however, George W Bush became the first sitting president to meet with him publicly, at a ceremony at the Capitol in which he was awarded the Congressional Gold Medal, Congress's highest civilian award.
The US decision to postpone the meeting appears to be part of a strategy to improve ties with China that also includes soft-pedaling criticism of China's human rights and financial policies as well as backing efforts to elevate China's position in international institutions, such as the International Monetary Fund, the report said.
China has been ramping up pressure on other nations not to receive the Nobel Peace Prize winner.
Image: The Dalai Lama