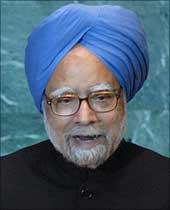 Prime Minister Manmohan Singh on Saturday announced a time-frame for infrastructural schemes under the massive Rs 24,000 crore package he had announced for the state last year.
The over 1500 km Trans-Arunachal Highway running through the middle of the hilly, tribal state will be completed by 2013, the prime minister told a Congress election rally in Pasighat. The double lane highway would pass through eleven district headquarters, he said. Another 850 km two-lane highway would connect five other districts, he said. The state has 16 districts.
"The Trans Arunachal Highway, rail and air connectivity and construction of two small hydro projects will meet the requirement of many remote areas, specially villages located on border areas, suffering from isolation," Dr Singh told the rally.
Work on the Rs 156-crore rail link between state capital Itanagar and Harmuti in Assam has started and will be completed by 2014, he said. There has also been a lot of progress in the work on the Greenfield airport being constructed at Itanagar and the Advance Landing Grounds at Tuting, Mechuka and Vijaynagar, Wallong and Pasighat, the prime minister said.
The Trans Arunachal Highway will start from Tawang on the Sino-Indian border and pass through Seppa, Sagalee, Hoj, Ziro, Daporizo, Aalo, Pasighat, Roing, Khongsa and Changlang, with a link with Saikhowaghat in Assam. The Union Ministry of Shipping, Road and Transport and Highways has notified it as National Highway 229.
It will touch the NH-52 and NH-37, running on both sides of the Brahmaputra in Upper Assam, and will be connected by the proposed Bogeebil rail and road bridge. Noting that many major hydro power projects were coming up in the state, Dr Singh said the 3000 MW Dibang project under the PM's package alone will earn a royalty of Rs 300 crore annually.
The Rajiv Gandhi Vidyutikaran Yojana was helping thousands of villages get electricity and by 2011 1000 border villages will be electrified with small hydro projects and solar power, under a Rs 550 crore project, Dr Singh said. By 2011, 500 other villages will be linked by roads under Bharat Nirman and the state will be connected by four-lane roads within 4 to 5 years, he said.
The prime minister said a Congress win in Arunachal Pradesh assembly will ensure better coordination with the United Progressive Alliance government at the Centre for speedy implementation of important schemes in the state.