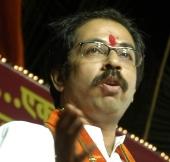 Ending the decade long Congress-Nationalist Congress party 'misrule' is more important than pursuing personal ambitions like becoming the chief minister, Shiv Sena executive president Uddhav Thackeray has said.
Thackeray, 49, was responding to a question on whether he was the Sena-Bharatiya Janata Party's choice for chief minister if the saffron combine comes back to power.
"I don't have personal ambitions. An issue like becoming the chief minister is very small when compared to the hardships faced by the people during the Congress-NCP misrule which I discovered during my various tours across the state," Thackeray said.
He said the saffron alliance will review several 'anti-people' decisions of the Congress-NCP coalition if voted to power.
Citing the example of an 'anti people' decision, he said, "The airstrip in Gondia was constructed after acquiring the agricultural land of farmers and they were not compensated at all." Gondia is the home district of Civil Aviation minister Praful Patel.
When asked about rebels in the fray, Thackeray said voters will not entertain them. "People want to vote out the incumbent government and will support the Sena-BJP. Voters have realised that the ruling coalition partners don't fulfil promises," he said.
"They (Congress-NCP) promised a life-size statue of Chhatrapati Shivaji in the Arabian sea. They forgot about it after coming back to power in 2004 and now they have remembered their promise once again. They only know how  to play with the emotions of the voters," Thackeray said.
BJP general secretary Gopinath Munde said irrespective of the presence of BJP rebel and sitting Member of Legislative Assembly inay Natu in fray from Guhaghar, the party will campaign for Sena candidate Ramdas Kadam and ensure his victory.
Asked about his cousin Raj Thackeray's criticism of Shiv Sena for not pursuing the cause of the 'Marathi Manoos', Uddhav said, "The electorate have realised that voting for the Maharashtra Navnirman Sena means voting for the Congress. The ground is slipping from underneath his feet and so he is criticising us."