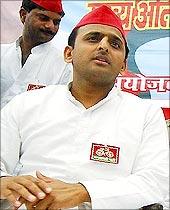 Smarting under the defeat in the Lok Sabha and assembly by-elections, Samajwadi Party Member of Parliament Akhilesh Singh Yadav on Thursday said he was ready to accept any challenge thrown at him by Congress leader Rahul Gandhi.
"I have not challenged anybody but if I am challenged, I will accept it," he said when asked if he was daring Rahul Gandhi politically, who is being credited for actor-turned-politician Raj Babbar's victory in the Lok Sabha by-elections in Ferozabad.
Addressing a press conference, along with his wife Dimple, who lost out to Babbar, Yadav took a dig at the Congress leader. He congratulated Gandhi for Congress' victory in Firozabad, but added that the All India Congress Committee general secretary should also accept the blame for his party's defeat in the assembly by-polls in the state.
The Congress has won only one out of the 11 assembly seats that went for by-polls in Uttar Pradesh.
Holding the Congress responsible for the backwardness of Uttar Pradesh, Yadav said, "Spending a night at a Dalit's house will not do away with poverty. These people should also tell them who is responsible for their condition".
He quipped that while the Congress had been campaigning for a young leadership, they fielded 'an old person' in Firozabad.