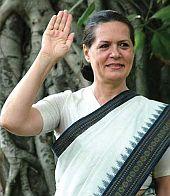 Congress president Sonia Gandhi on Monday flew by economy class to Mumbai to attend a rally of party workers and also to hold discussions with the leadership of the Sharad Pawar-led Nationalist Congress Party.
Gandhi's decision to fly economy class followed a similar act by Finance Minister Pranab Mukherjee and an announcement by External Affairs Minister S M Krishna that he would be undertaking official trips to Belarus and Turkmenistan.
He has also decided to cut down his delegation from 20 to two members for the trip.
Krishna further said that he would not travel first class in commercial airliners during his official trips.
The decision to fly economy class comes in the wake of Mukherjee's appeal for a need for ministers and lawmakers to observe austerity in their lifestyle and official functions as the country is facing a crisis caused by drought.