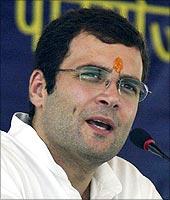 Joining the debate on austerity, All India Congress Committee General Secretary Rahul Gandhi on Thursday said politicians should be austere all the time -- a stark reminder to two the Union ministers who had to check out of five-star hotels in New Delhi a couple of days ago following an embarrassing media exposure.
"As a politician, you have a duty to be austere anyway," he said at a press conference in Chennai at the end of his three-day visit to Tamil Nadu.
"I generally tend to keep myself austere," pointing out to his white kurta-pyjama attire with a chuckle.
"I don't go through phases. So I don't think that you should have austerity measures in a phase and no measures in another phase... I don't really get interested in these kind of things," he said.
Image: Rahul Gandhi