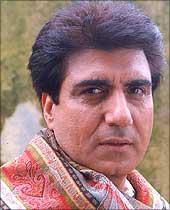 The Samajwadi Party on Tuesday suffered a major setback when it lost the prestigious Firozabad Lok Sabha seat, with party chief Mulayam Singh Yadav's daughter-in-law losing to actor-turned-politician Raj Babbar of the Congress, by a huge margin of over 85,000 votes.
Babbar, a former Member of Parliament from Agra who rebelled against the SP and joined the Congress before the Lok Sabha elections in May, secured 3,12,728 votes while Dimple Yadav got 2,27,385 votes and ruling Bahujan Samaj Party nominee S P Singh Baghel got 2,13,571 votes.
The Firozabad seat was won by Dimple's husband Akhilesh Yadav in the LS polls held in May by a margin of 67, 301 votes against Baghel. Akhilesh, who had also won from Kannauj, vacated the Firozabad seat.
While Raj Babbar, who contested the elections on the issues of pariwarwaad (dynastic rule), development of the constituency and Rahul Gandhi's work, the SP sought votes on an emotional plank, asking the people to elect Mulayam's bahu.
Other than the Muslim and Yadav combination, the SP was also banking on Kalyan Singh to mobilise the voters belonging to the Lodh caste, in favour of Dimple. Kalyan and his son Rajbir had campaigned extensively in Firozabad for Mulayam's daughter-in-law.
Reacting to his victory, Babbar said he had fought the poll on the plank of development and he would keep it in mind all the time. About her SP rival, he said Dimple was 'like his daughter' and he had nothing 'harsh' to say against her.