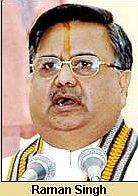 Chhattisgarh Chief Minister Raman Singh on Sunday said Naxalism will be eradicated from the state where there was no place for left extremism and terrorism.
"I believe the resources and youth will play an important role in making Chhattisgarh developed, Naxalism and terrorism will have no place in the state," Singh said.
At the function of ninth 'Rajya Sthapana Divas' (statehood day), he hoped the natural resources of the state will play an important role in its development. Development will reach even those places where it has not reached so far due to Naxalism, he said, adding, "We will give a thrust to development work in the Dantewada and Surguja."
On the occasion, state governor E S L Narasimhan said Chhattisgarh was a rising state of the country, rich in minerals, forest and human resources.