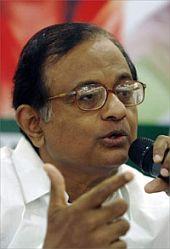 Addressing a public function in Madurai, Union Home Minister P Chidamabaram on Sunday issued a strict warning to Pakistan that any further attack on the Indian soil will be strongly retaliated.
Chidambaram said he has been warning Pakistan not to play with India and that the Mumbai attacks should be the 'last game.'
"We have been gaining strength day by day to counter terrorism from across the border. I have been warning Pakistan not to play games with us. (I have told them that) the last game should be the Mumbai attacks. Stop it there," said the home minister.
"If terrorists and militants from Pakistan try to carry out any attack in India, they will not only be defeated but will be retaliated very strongly," added Chidambaram.
Chidambaram's warning came on a day when Pakistan Prime Minister Yousuf Raza Gilani termed India's offer of talks as a positive sign.
Paying tributes to former Prime Minister Indira Gandhi during the course of his speech, Chidambaram recalled her words of serving the nation till the last drop of her blood flowing in her veins.
The minister also highlighted the progressive schemes launched by the Congress party- led United Progressive Alliance government for the common people.
Image: Union Home Minister P Chidambaram