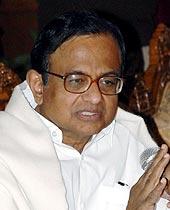 Pakistan-based terror organisations Lashkar-e-Tayiba, Jaish-e-Mohammed and Hizbul Mujahideen are planning to infiltrate terrorists into India to "create mayhem", said Home Minister P Chidambaram on Sunday, asserting that the country's security forces were, however, prepared to meet any external threat.
He said Pakistan has no will to prosecute and punish the perpetrators of last year's Mumbai attacks and voiced concern over the spread of Taliban in that country, apprehending that the danger could spread to the rest of South Asia including India.
"We go by the information or intelligence that we are able to gather. Our assessment of the inputs flowing into India is that the LeT, the JeM and the Hizbul Mujahideen are planning to infiltrate terrorists into India.
"Now obviously they are not trying to infiltrate for tourism purposes. They are being infiltrated to India to create mayhem here. Therefore, we say that the threat level has not diminished. That is what the prime minister said (in the Commanders Conference). There are many attempts which have been foiled even before they could (materialise)," he said in an interview.
Asked how well prepared the country was to meet terrorism inspired from across the border, Chidambaram said, "We are prepared to meet any external threat. As I said, we are building capacity every day, every week, every month. But, in today's world, being vigilant and alert is a 24/7 function."
So the danger remains and are we better prepared? Chidambaram was asked.
He replied, "I cannot do anything to the source of the threat that is emanating from another country. I can only make my best effort to building capacity in this country to meet any terror threat or terror attack, which is what we are doing."
In reply to a query on the lack of seriousness on Pakistan's part to bring to book the masterminds of the Mumbai attacks based in that country and what was the way out to pressure Islamabad, he said there was no way out.
"It is quite clear that the Pakistan government has no intention and certainly no will to prosecute and punish Hafiz Saeed (founder-chief of LeT) and a few others who we know only by their code names or pseudonyms -- Major General Saab, Kafa or Kaka, Salahuddin. We don't know who they are, but we know that they played an active part in the training of the 10 terrorists who were dispatched to India."
Now, even the judge named for the trial has let the cat out of the bag by saying why would a judge quit unless he was under pressure from "wrong quarters", he said.
He was referring to the decision of a judge of a Lahore court hearing the case against Hafiz Saeed under terrorism charges, who had a few days ago quit his post.
Image: Home Minister P Chidambaram