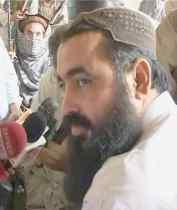 Following the death of Pakistan Taliban chief Baitullah Mehsud in an American drone strike, an interesting question has cropped up -- Will Islamabad offer the promised bounty money of Rs 50 million to the Central Intelligence Agency for killing Pakistan's top militant?
The United States government had also announced a $ 5 million bounty on Mehsud.
The Pakistan government had announced a reward for the capture, dead or alive, of Baitullah, apart from offering rewards for the arrest or killing of 10 other Taliban leaders, the Daily Times reports.
Other most wanted militants on Islamabad's list are -- Faqir Muhammad of Bajaur, Abdul Wali alias Omar Khalid and Qari Shakeel of Mohmand, Tariq Afridi from Darra Adamkhel and Hakimullah Mehsud and Qari Hussain from South Waziristan Agency.
The question now is whether Islamabad would pay their announced reward to the CIA, which coordinated, planned and executed the attack that targeted the Taliban chief. 
Image: A file photograph of Baitullah Mehsud | Photograph: Reuters