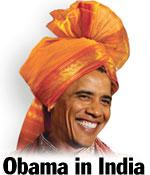 United States President Barack Obama will be in India on November 6 for his longest State visit yet. Apart from our own coverage, we provide you this one-stop blog of what the world media is saying about the visit and its significance
October 29:
Shadow war hits farcical low:
From the moment the White House announced that President Barack Obama will visit India in November, an inevitable sub-plot that has been brewing on the sidelines is the India vs Pakistan battle for attention.
Now this games seems have gone so ridiculously out of hand, if this Christian Science Monitor article is to be believed: Obama is going to Pakistan. India is not amused.
It says the announcement that Obama will visit Pakistan next year has sapped all enthusiasm in India for his November visit!
A fool's errand:
The American think tank, the Council on Foreign Relations, in an Expert View titled Obama's India Problem says:
In New Delhi, Pakistan's role as a central go-between in efforts to promote reconciliation with elements of the Taliban is widely seen as a fool's errand. Many believe the administration's effort will fail.
Obama's beef:
From the non-existent India-Pakistan battle for pride to some real issues. The Powerline Blog in a post titled 'What's Obama's Beef with India' uses the India visit to judge Obama's foreign policy:
A strategic alliance with India is such a no-brainer that, considering this and other data, it's hard to avoid the conclusion that a hallmark of Obama's foreign policy is perversity.
Local casualty:
Rounding off our blog today is an interesting Mid-Day piece titled, 'Obama security concern drowns Gateway ferries'. The report says yet another casualty of President Obama's visit will be ferry operators, that too during one of their most important business periods, the Diwali weekend.