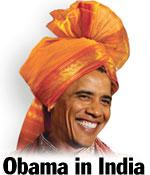 United States President Barack Obama will be in India on November 6 for his longest State visit yet. Apart from our own coverage, we provide you this one-stop blog of what the world media is saying about the visit and its significance
Thursday, October 28
Buzzword Bingo:
The guys over at the Wall Street Journal are pretty convinced that nothing substantial will come out on some of the major issues facing the two countries: The civilian nuclear agreement; outsourcing; or Pakistan/Afghanistan/Kashmir. Instead, the Journal says, there will be "soaring oratory", where Obama "will try to define the relationship between the two countries as one of the most important in the world for the next 100 years. Read the WSJ analysis here.
Also, the Journal on how Obama will address the outsourcing issue in India.
Passage to India:
The Atlantic Sentinel, however, is much more optimistic, and thinks the President's 'Passage to India' will play a crucial role in shaping his legacy. 
"His legacy will largely be determined by how he overcomes two major struggles. The first being the economic recession; the second, the war in Afghanistan. The president can hope to win on both fronts by successfully courting India during his upcoming trip."
More from the Sentinel's analysis.
Also firmly in the naysayers' corner is the Stratpost. India is going to be disappointed, it warns in its pre-visit analysis.
The elephant in the room:
The trip will also be about how New Delhi deals with the elephant in the room -- the Pakistan-Afghanistan conundrum, says this Reuters Analysis. 
The View from Pakistan:
If Obama is visiting India, can Pakistani opinion be far behind? Here is an interesting take.
In more views from Pakistan, the Islamabad Globe thinks a frosty welcome awaits Obama in, err, Bharat. Here.
Another critical piece from the Nation.
Meanwhile, the Middle East's leading publication, the Khaleej Times takes a step back and takes a long, hard look at the visit. Not flattering at all.
The Daily Times says India is arms-hungry and is looking to exploit the visit for gains in this front.
And China:
Not just Pakistan, even China (which, incidentally, all the world's media has highlighted that Obama will not be visiting on his Asia trip) is watching the visit very closely.
China is looking at President Obama's India visit as reenergizing Washington's effort to encircle China, using India as a key actor in this strategy. India's  China experts, especially policy makers, are blissfully unaware that Chinese India experts, the armed force, and the foreign ministry, see India as a country which can match and outwit China in strategic actions and counter it. Many Indian experts have been swamped by Chinese propaganda or psychological warfare that Beijing does not even consider New Delhi as a serious competitor. A close study of Chinese strategic writings over the last twenty years at least, reveal that they view India as a difficult contender which stands against its domination of Asia. 
More on this issue from Eurasia Review.
Wishlist:
Here's Corporate America's Wishlist.
A first in the Parliament:
And finally, closer home, did you know that this is the first time a teleprompter will be used in the Parliament.