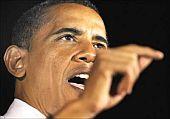 United States President Barack Obama will visit Mumbai on November 6, during his four-day mission to India, US-India Business Council announced on Monday.
President Obama will be chairing the Business and Entrepreneurship Summit in Mumbai on November 6, jointly organised by the US Department of Commerce and USIBC.
"The summit will help deepen America's commercial relations with India, support American jobs, and strengthen the vital US-India partnership," a release by the USIBC stated.
When President Barack Obama travels to India, he will be the sixth-ever US President to set foot on Indian soil. His visit will be an action-triggering event, where major business policy objectives can be advanced, the statement added.
Interestingly even though Mumbai, Delhi and Punjab are on the list of cities he would visit, India's IT cities are not there.
In Delhi the US President would have official meetings with Prime Minister Manmohan Singh, President Pratibha Patil and would address both Houses of Parliament.
Image: US President Barack Obama