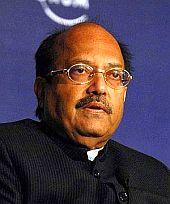 When we tell Amar Singh, lately the general secretary of the Samajwadi Party(SP), it was his failures we want to talk to him about over coffee, he straightens himself in his chair, tightens his lips and says: "OK, so what do you want to say?" write Aditi Phadnis and Saubhadro Chatterji.
"You haven't got much done in politics, have you?" we respond. "You've managed to drive a wedge between Mulayam Singh Yadav and his traditional supporters; you could have transformed Uttar Pradesh (UP) if you'd wanted to. Instead, you've turned it into a playground for your cronies..."
"I compromised," he concedes. "I've said in many interviews that I became too indulgent. I partially agree with what you say, but all I want to say in my defence is: All that is visible is not what is accurate. I've always raised a voice of protest when I thought things were going wrong. I have a passion for politics; my crime is that I succumbed to its lure. I got overindulgent. For that, I must not pardon myself."
So, the Amar Singh years for UP were power for Amar Singh and his pals? "When Mulayam Singh Yadav was in the government, I never had actual power -- only titular power. And this charge of cronyism, you make this charge because of the UP Development Council. But I had no constitutional or executive powers. It was all advisory, recommendatory -- I could actually do very little."
We must look disbelieving because he ploughs on. The power policy, he insists, was not made for any specific person, it was for everyone. The sugar policy, he adds while stirring the sugar in his coffee, is something that people allege was made for one person: Kushagra Bajaj. But Dhruv Sawhney and KK Birla, he points out triumphantly, also made money as UP became the highest producer of sugar during that period. Singh trots out a similar argument for the power sector. "GVK Reddy would not have got the Srinagar power plant if I had not been around," he says, referring to the 330-Mw Alakhnanda hydel project granted in 2006 to the GVK group along with two others -- Rosa and Anpara. Between them, they were supposed to have provided UP with 24x7 power. Yeah, right.
"Yes, but Anil Ambani did get the Rosa power project -- 600 Mw," we remind him.
Singh takes this head on and says he gave it to "Anil only after Kumar Birla held the licence for years and did not produce even one unit of power." "I would have liked to give even the 1000 Mw Anpara C project to Anil. But the Lanco group bid the lowest and Anil lost. I would have been indulging in cronyism if I'd given all three to Anil. Lanco Rajagopal is a Congress MP. His party disliked me. But the government decided and he got it," Singh says.
By now, he is in full flow and wants to have his say. "As for sugar, well, I gave it to Kushagra, the grandson of Jamnalal Bajaj -- not a Dawood Ibrahim. I did it for UP. If this is crony capitalism, I will do it again," he says.
He then has a dig at the press saying that when he hired Nandan Nilekani, we called it cronyism -- Nilekani was appointed to the UP Development Council. But when the Central government appointed him as the head of the Unique ID project and gave him the rank of Cabinet minister, Singh takes pleasure in rubbing it in, "what then?"
"So if all you were doing was acting as a broker between the industry and Uttar Pradesh, why call it politics." we ask.
Singh looks wounded. "Broker? I haven't charged a penny for brokerage! These projects were not implemented for me. They were implemented for the people of Uttar Pradesh. Many were dead projects. Now, at least, power is flowing. You live in Noida, right? Well, I did it for you. There is a little bit of Amar Singh in everyone's life."
We take a sip of the, by now, tepid coffee. It is terrible, and we vow not to touch it again.
"The problem was not with these people or their relationship with me. The problem was my party," he says, with the air of making a revelation.
Singh recounts the cases of several persons with a criminal past who were forced upon him. "But you went out on a limb for Raja Bhaiyya of the royal family of Kunda -- who fed people to crocodiles if they opposed him..." we insist.
Singh doesn't deny this, instead chooses to say, "People also said Sita was not pure because she lived with Ravana for a while. But I never justified Dilerganj," referring to the incident where a woman of a certain community was raped in the mid-1990s, following which women came and laid siege to the police station and in retaliation, several members of the community including a four-year-old child were hacked to death.
"I never leave the side of anyone who is in distress," Singh says emphatically.
"We know", we say. "You identify people who are down at a particular time in their career, spot their potential and help them out. In that sense, you're like a groupie -- who craves fame and sleeps with pop stars so that she can tell the world what it was like".
This gets Singh really angry. "I don't have to live up to people's perceptions ... Whom I befriend, whom I sleep with are my business and theirs. It is with mutual consent. There is no element of coercion involved. I'm not forcing anyone to do anything."
He takes a sip of water and offers us some advice. "You should write for the common man. Where were you when Amir Khan was being attacked in Gujarat for siding with Medha Patkar? I went to jail for one night opposing the Maharashtra Navnirman Sena's campaign against people from UP. Where were you? Where was the film industry when Mahesh Bhatt was attacked? I always try to speak up for what is right. If I am not able to support what is right, I keep quiet."
Singh stays quiet for a few seconds. Then, calmer, he says, "Looking back, I should not have compromised for this long. I always wanted to raise my voice. I should have come out much earlier ... but I was afraid that if I would come out (of the SP), I would become irrelevant. That word 'irrelevance' is frightening."
"It takes a big man to concede this," we say. With rare honesty, Singh says: "I had to invent my relevance. In the process, I made compromises."
We hold our breath. Singh is telling us the unvarnished truth. And he is hurting.
"There was something fundamentally artificial about the life I was living. The moment of relevance (in politics) doesn't last long. I wanted to make it last as long as I could. And I preferred relevance over moral conscience."
We look around. There are trays overflowing with nuts, heaps of mithai in every corner of the room, plush cushions, glittering chandeliers -- and a man who can't enjoy any of it because he'd faced a brush with death.
"I'm having a wonderful time now that I'm free," he says, looking at the brighter side of life. I'm watching movies on DVD. I'm starring in a film in Bangla. I'm also acting as a musician in a Malayalam movie in which Dimple Kapadia is acting as my wife. Life is colourful, life is good," he says. He is telling the truth. Amar Singh always does.