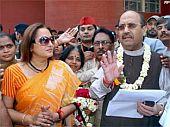 Terming Amar Singh and Jaya Prada as 'intruders,' Samajwadi Party today expelled them from the party on grounds of indulging in anti-party activities and denting its socialist image.
The decision was taken at the SP parliamentary board meeting chaired by party supremo Mulayam Singh Yadav in Lucknow, national general secretary and spokesman Mohan Singh told mediapersons.
He said the party also suspended membership of four MLAs – Madan Chauhan, Sandeep Agarwal, Ashok Chandel and Sarvesh Singh -- all Amar Singh loyalists.
"For over a month some leaders of the party have been continuously giving statements against the SP," Singh said.
He said that on January 31, Lok Sabha member Jaya rada had held a press conference in which she made 'indecent comments' against the SP leadership and spit venom against its policies.
"She also gave statements in support of Kalyan Singh, which the party thought had dented its secular image. Any leader, howsoever important, he or she cannot be allowed to make public statements against any political party," he said.
"Therefore, the parliamentary board has decided to expel Jaya Prada from the primary membership of the party," he said, adding that she was a 'guided missile' of Amar Singh.
Singh said Amar Singh attempted to 'deshape' the SP. "His entry in the party was capitalist and communal intrusion intended to damage the socialist movement," he alleged.
He said that to free the party from such forces, the party decided to expel him from the primary membership with a 'heavy heart.'
The SP spokesman said, "He (Amar) voluntarily floated Lok Manch, which is a parellel organisation to SP and repeatedly attempted to create a rift, engineer a split and dent the image of the party."
"SP's policy is that of casteless politics, whereas Amar Singh attempted to promote casteist politics," he alleged.
Mohan Singh said the party will move a petition before Lok Sabha Speaker and Rajya Sabha Chairman to disqualify them from the two Houses of Parliament on grounds of indulging in anti-party activities.
He said the four MLAs, who were 'conspiring to engineer a split' in the party in Uttar Pradesh and had become followers of Amar Singh, have been suspended from the primary membership of the party. "The state unit has been asked to make an inquiry into their conduct and take action against them."
Regarding Jaya Bachchan, the SP spokesman said that so far she had not done anything which amounted to anti-party activity.
Asked about the future of Sanjay Dutt, another party general secretary who quit his post to express solidarity with Amar Singh, he said the party does not take any cognisance of him.
"He was not associated with the party. After campaigning for the party in UP, he voted for the Congress in Maharashtra. As he has already resigned from the party post we do not take any congnisance of him anymore," he said.
Alleging that Amar Singh dented the unity of the party, he said, "Before the disease spreads further, the party decided to do a corrective surgery."
Regarding another Amar Singh loyalist and Maharashtra SP MLA Abu Azmi, the party spokesman said he too had not given any statement against the party.
Asked why it took so long to take the decision, Singh said it took time to understand the 'intrusion.'
Regarding Amar Singh's statement that he knew many secrets of the party, Singh challenged him that he should first release his CDs on which he had obtained a stay from the Supreme Court.
On Amar Singh's challenge to Akhilesh Yadav to vacate Kannauj Lok Sabha seat in Uttar Pradesh and contest election against him, the party spokesman said the expelled leader had not dared to face voters so far.
Regarding Amar Singh's sympathisers within SP, Singh said no such person was left in the party as of now. "If there are any, their activities will be watched and action taken."
Images: Jaya Prada (left) and Amar Singh