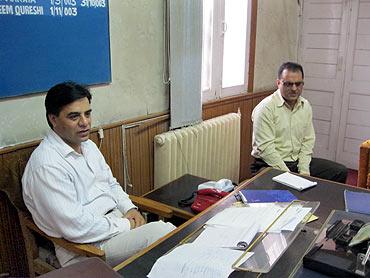 How does it feel to be a doctor in Srinagar as violence rages around you and there is a constant stream of patients being wheeled in?
Sahim Salim meets doctors at a Srinagar hospital to find out.
In May three patients were brought in with firearm injuries.
In June it increased to 15 patients.
July saw 27 patients.
In the first 10 days of August, 57 people were brought in with varying injuries caused by bullets or tear gas shells.
This are figures at just one hospital in Srinagar, the Shri Maharaja Hari Singh Hospital.
This central government hospital does not have a trauma centre; strange when you consider that Srinagar has witnessed violent conflicts between residents and security personnel for 20 years now.
In fact, there is not a single hospital in Srinagar which has trauma facilities. In times of conflict, the casualty department at the Shri Maharaja Hari Singh Hospital is converted into a makeshift trauma centre.
Dr Waseem Quraishi, the medical superintendent, Shri Maharaja Hari Singh Hospital, says he could get a haircut after weeks of waiting only a few days ago.
Ever since the Kashmir valley erupted after 17-year-old Tufail Mattoo was killed by a tear gas shell on June 11, his hospital has been busy saving lives.
"I finally got a breather and quickly got a haircut," says the doctor.
Dr Quraishi says the hospital staff has been working around the clock to save the lives of patients admitted to the medical establishment.
"A majority of the injuries are in the head, chest and abdomen. That makes our task even more difficult," adds Dr Quraishi.
Another doctor at the hospital, Dr Aziz (his name has been changed as he did not wish to be identified), says the nature of injuries is severe.
"A majority of the victims have multiple gunshot injuries, invariably in the head, chest and abdomen. These are children we are talking about -- teens and children below 10. The oldest among these kids will be in his early 20s," reveals the doctor.
When this reporter asks Dr Quraishi if the hospital has enough beds for the number of patients, he gives a wry smile.
"Srinagar is under curfew. People from outside the immediate vicinity are not coming in. We have enough beds," he says.
Dr Quraishi has been head of the hospital since 2003.
"Of all my years at this hospital, this phase of protests is the most violent. I am a doctor, but I am also a Kashmiri. Seeing these kids brought in like this, it is indescribable. Some of these kids have died while under treatment here," he says.
"I have seen six kids die in this hospital," says Dr Aziz. "The strangest part of these deaths is that the parents of these boys don't cry. They calmly transport their child for burial, while their relatives weep in sorrow. It is unsettling."
Says Dr Ijaz Baba, a trauma surgeon at the hospital, "These children have seen blood, sorrow and death. They know what happened with their parents or relatives. Now they are angry and unafraid."
"There are kids in this hospital who say they will heal and go back to pelt more stones," adds Dr Baba, "Now with their bullet injuries, they are even more angry."
Image: Dr Waseem Quraishi, left, and Dr Ijaz Baba at the Shri Maharaja Hari Singh Hospital hospital in Srinagar. Photograph: Sahim Salim.
Earlier in the series: 'My 9-year-old son wants to fight for azaadi'
'Protestors are men, women and children we know'
Kashmir's young stone-throwers
'There's no saying what Kashmir's youth will do'
ALSO READ: In Kashmir, pelting stones for a price
Reading the mind of the Kashmiri stone-pelter