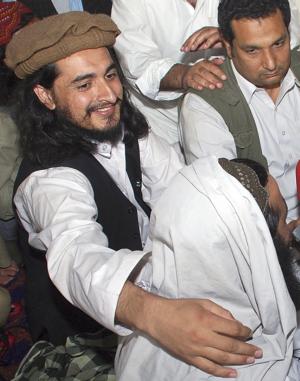 United States intelligence agencies believe Pakistani Taliban's new leader Hakimullah Mehsud has died in a gun battle with a rival faction weeks ago.
American authorities are in the process of reviewing their information before they can definitively say Hakimullah is dead. So far, there has not been any evidence to confirm his death, Voice of America reported today.
Recent comments by US intelligence officials about Hakimullah's death confirm what Pakistani officials said weeks ago, the report said.
Pakistani officials, including Interior Minister Rehman Malik, had said that they believe Hakimullah died during infighting in the Taliban following the killing of former group leader Baitullah Mehsud.
Baitullah was killed in a US drone attack in the South Waziristan tribal region in early August. Earlier this week, the Taliban released a brief video showing his body.
Hakimullah supposedly called news outlets after reports of his death first arose but Pakistani officials have said they have reason to believe that it was his cousin pretending to be the Taliban leader.
Meanwhile, the Pakistan Army has blocked all entry and exit routes in South Waziristan, a stronghold of Tehrik-e-Taliban Pakistan, ahead of a possible military operation.
Though the military has not publicly set a date for any major operation, UN officials said some 80,000 civilians have fled the area in anticipation of a new offensive.  
Image: Hakimullah Mehsud with Taliban chief Baitullah Mehsud during a news conference in South Waziristan. A file picture.
Photograph: Reuters