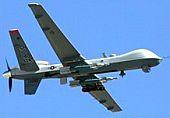 The United States has confirmed the death of top Taliban commander Ilyas Kaashmiri in a drone attack conducted earlier this month.
According to US intelligence sources, Kaashmiri was killed in a missile attack carried out by unmanned aircraft in South Waziristan on September 7.
Kaashmiri was the founder leader of the Pakistan-occupied Kashmir-based terrorist outfit Harkat-ul-Islam.
He was arrested and sent to jail for plotting an attack on former President General Pervez Musharraf, but was subsequently released as authorities failed to substantiate the case against him.
After elimination of the Tehreek-e-Taliban Pakistan chief Baitullah Mehsud, Kaashmiri became the top most wanted terrorist in the region followed by Hakeemullah Mehsud and Qari Hussain Mehsud, The News reports.