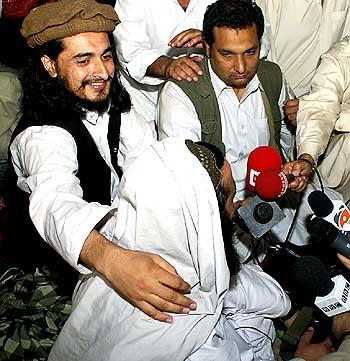 Hakimullah Mehsud has been appointed as the head of the Tehrik-e-Taliban Pakistan. He succeeded Baitullah Mehsud, who was killed earlier this month during a US drone attack in South Waziristan.
Pakistani intelligence agencies tried their best to create rift amongst the ranks of Taliban over the appointment of a new leader but they did not succeed. Earlier Pakistan interior ministry said that Hakimullah Mehsud and Mufti Waliur Rehman, another contender for the top post, killed each other over the issue of leadership. This was followed by another news that Waliur Rehman has raised objection over the appointment of Hakimullah. On Sunday the ministry revealed that the real Hakimullah is dead while the new leader is his twin brother who looks like him.
All these reports are baseless as Qari Haris, a militant leader from Bajaur agency, told rediff.com that he was present at the meeting of Taliban Shura (supreme council) at Orakzai agency where Hakimullah Mehsud was appointed unanimously as the new Taliban chief.
Hakimullah Mehsud, in his late twenties belongs to Khatki village in South Waziristan. He is a ruthless commander who belongs to Ashengai sub-clan of the Mehsud tribe and is known for his attacks against government installations across the country.
Hakimullah Mehsud was very close to Baitullah Mehsud and in the past he also worked as the TTP spokesperson. He appeared before the media with the code name of Zulfiqar while his real name is Jamshed and family members call him 'Jammo'.
Like his predecessor he neither received contemporary education nor did he receive proper religious education but in the field of warfare he is matchless. He joined a madrassa at Shaho village in Hangu district but like Baitullah Mehsud he also left the madrassa without completing his education. Hangu is situated near Kurram and Orakzai agencies, both places known for sectarian violence between Shias and Sunnis -- and during his stay in Hangu he developed a strong hatred for Shias. Ideologically he is affiliated with Lashkari Jhangvi, a banned fanatic Sunni outfit, and has good relations with its head Qari Zafar.
After leaving the madrassa at a young age he joined jihadi forces and developed strong ties with the Afghan Taliban. Hakimullah and his cousin Qari Hussain, a trainer and sponsor of suicide bombers, from time to time went to Afghanistan; at first they fought against the Northern Alliance and later on against the US-led NATO forces.
Hakimullah Mehsud always keeps moving from one place to another and he was head of Khyber, Orakzai and Kurram agencies under Baitullah Mehsud's leadership; this quality earned him the title of 'mobile Taliban commander'. He has married twice; his first wife belongs to his native village in South Waziristan while recently he married another girl from Mamozai tribe in Orakzai agency.
In Orakzai agency, Hakimullah Mehsud levied jiziya (protection tax) on 35 Sikh families that have been living there for decades. His men arrested Klank Singh and Sewa Singh from Ferozkhel area of the agency and later on during a jirga it was decided that Sikh community would pay Rs 15 million as protection tax per year. He hates all non-Muslims whether the Indian Army in Kashmir or US-led NATO forces in Afghanistan but he always prefers 'near enemy' (Pakistani security forces that according to him follow US agenda) over the 'far enemy'. He was also behind attack on the Sri Lankan cricket team earlier this year.
Baitullah Mehsud was a silent person while the TTP's new head is a talkative man known for his witty remarks. Baitullah Mehsud always avoided being photographed while Hakimullah loves to give away interviews and likes to be photographed. Once during a press conference at Orakzai agency he surprised reporters by suddenly firing with his Kalashnikov rifles and asked them to take his pictures.
When Baitullah Mehsud replaced then Taliban commander Abdullah Mehsud in 2005, Hakimullah became his strong supporter and always remained with him. Afterward, on his request Baitullah Mehsud appointed him the head of the Taliban at Kurram agency that further fuelled sectarian violence in the area. He also took Waziri Taliban to Kurram agency for fighting against Shias.
When Pakistani Taliban adopted the trend of butchering spies and other security personnel, Hakimullah and his cousin Qari Hussain were first to behead the 'enemies'. Once the Taliban captured some 16 frontier constabulary personnel out of whom one person belonged to the Shia sect, so Hakimullah butchered him along with a teenager boy and released the video.
Hakimullah Mehsud's appointed has upset many. Pakistani intelligence agencies tried their best to appoint someone who is not against the Pakistani security forces but they failed. Militant leaders like Mullah Nazir, Hafiz Gul Bahadur and Sirajuddin Haqqani who enjoy good relations with state agencies are not happy with the appointment of Hakimullah Mehsud but they did not have enough support inside the Taliban Shura to influence the decision.
Rasool Dawar, a resident of North Waziristan agency who met Waliur Rehman Mehsud on Saturday, told rediff.com, "According to Waliur Rehman there is no difference between him and Hakimullah Mehsud over the issue of leadership and what the Shura decides would be acceptable to all."
A big challenge for Hakimullah is to develop friendly atmosphere with militant's leaders in his neighbourhood like Mullah Nazir and Hafiz Gul Bahadur. Hakimullah is known for his aggression against Pakistani security forces while the other commanders are against such activities. He will have to keep in confidence Waliur Rehman, the head of TTP South Waziristan chapter, who has good influence in the area.
Hakimullah Mehsud appointment would fuel suicide attacks throughout Pakistan's urban areas. During Baitullah's time he said that suicide bombers would hit twice a week in the urban areas of Pakistan. He is one of the militant commanders who support the idea that the terror networks should be shifted from rural to urban areas and now he will be in a position to execute the idea. At the same time, due to his LJ background, his men would also carry out attacks against the Imambaras and other gathering points of Shias. For this purpose he has already trained a number of Punjabi Taliban in South Waziristan. They have returned to their homes and are just waiting for Hakimullah's call.
Image: Pakistan Taliban commander Hakimullah Mehsud (left) with his arm around Taliban chief Baitullah Mehsud during a news conference in South Waziristan in May 24, 2008. Photograph: Reuters.