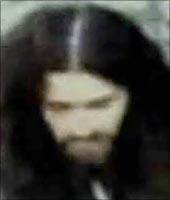 Baitullah Mehsud, the chief of the Taliban's operations in Pakistan, has been reportedly killed in a strike by United States' drones in southern Waziristan, Pakistan. His death will deal a severe blow to the Taliban, which has been fighting US drone attacks and the army in the restive tribal regions in Pakistan.
In an exclusive article for rediff.com, Pakistan-based journalist Tahir Ali gives us a peek into how the Taliban is trying to regroup in Pakistan and elect the dreaded militant's successor.
Tehrik-e-Taliban's Pakistan chief Baitullah Mehsud was killed in an American missile strike on Tuesday. Although there were contradictions about the news of his death, sources inside the Taliban told rediff.com that TTP chief and his wife were killed in the missile strike by United States' drones.
Mehsud, who carried a $5 million bounty on his head, was present in his father-in-law Ikramuddin's residence when the missile struck.
"Baitullah married the daughter of Ikramuddin last year -- she was his second wife -- and on that particular night he was present at his in-laws' home when the attack took place," Raqeebullah Mehsud, a young militant, told rediff.com over the phone from south Waziristan.
 
Baitullah was a known hypertensive and diabetic. Whenever his health deteriorated, he resorted to intravenous infusions and he invited people to amuse him with jokes and funny remarks.
"On that particular night, Baitullah Mehsud was not feeling well and was on an intravenous infusion when a missile strike took place and he became a target. His wife and other three family members were also killed. Baitullah died on the spot," said Raqeebullah.
"Baitullah Mehsud was badly injured and his face was disfigured. He was buried later on in the night at Jangri area in south Waziristan," he added.
After his killing, the Taliban Shura (the supreme council of the Taliban) has convened meetings to elect the new TTP chief. There are three candidates in the running --  Hakimullah Mehsud, Azmatullah Mehsud and Waliur Rehman Mehsud.
Hakimullah Mehsud, in his late twenties, is a strong candidate and is also the cousin of Qari Hussain, the heartless commander who is the trainer and sponsor of suicide bombers across the country.
Hakimullah is known to be Baitullah's deputy; he is currently in charge of the Taliban at Orakzai, Kurram and Khyber agencies. He does not stay on at one place and is known as a mobile Taliban commander amongst the militants.
Hakimullah also has good contacts with Lashkari Jhangvi, a fanatic Sunni outfit. He has good contacts in Punjab and Sindh and has trained a large number of Punjabi Taliban militants in South Waziristan. Hakimullah uses these Punjabi Taliban militants whenever he needs to carry out a suicide attack in settled areas.
Azmatullah Mehsud, the second candidate, is a young militant commander and had earlier fought in Afghanistan. He is now leading the insurgency in southern Waziristan against the Pakistan army. Currently, he is the Taliban commander at Barwand area in south Waziristan. However, he was never a popular commander among Taliban militants and his candidature has surprised many.
The third candidate is Mufti Waliur Rehman, a young commander who belongs to the Makin area in south Waziristan. He is Baitullah's cousin and was very close to the TTP chief. He has maintained a low-profile and has never appeared in front of the media in the past.
"Baitullah Mehsud always said that Waliur Rehman would be his successor but the Shura would decide whom to pick as TTP head," says Raqeebullah.
If the Shura acts as per Baitullah Mehsud's will, then Waliur Rehman will be the next chief of the TTP, he added.
 
Hakimullah seems to be the strongest candidate among the three, but Waliur Rehman was declared as Baitullah Mehsud's successor by the TTP chief, and this could affect the Shura's decision.
If the Shura manages to reach a consensus across the board, the name of Mehsud's successor will be announced after the evening prayers on Friday.