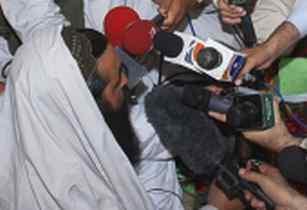 Striking a body blow to the Taliban, missiles fired from United States' drone killed Pakistan's most wanted terrorist Baitullah Mehsud and his wife, in his father-in-law's house in Makeen area of south Waziristan.
Quoting intelligence inputs, Pakistan Foreign Minister Shah Mehmood Qureshi said, "Authorities are going to the site of the missile strike to verify the Taliban leader's death."
"According to my information, this news is correct and he (Mehsud) has been taken out," he said. "Our reports are based on the internal intelligence inputs. We will be 100 per cent sure when we get the physical verification," Qureshi told reporters on the sidelines of an official function in Islamabad.
The US drone fired two missiles at the compound of Mehsud's father-in-law, a cleric named Malik Ikramuddin, on Wednesday. Earlier reports had said Ikramuddin's daughter, who is Mehsud's second wife, was killed along with some militants. Pakistani ministers and US officials are trying to verify the news.
TV channels quoted sources in the tribal areas as saying that the 'Shura' or supreme council of the Pakistani Taliban had met on Thursday and would gather again on Friday evening, possibly to choose Mehsud's successor.
Taliban might admit that 35-year-old Mehsud had been killed only after choosing a new chief for the Tehreek-e-Taliban Pakistan, an umbrella of militant factions.
"The government has received information that Mehsud was killed in a drone attack in the tribal belt, but we are awaiting official confirmation," said Interior Minister Rehman Malik.
Malik made it clear that irrespective of whether Mehsud was dead or alive, the Pakistan army will continue its action till Taliban's whole network is destroyed. Mehsud's death is a big success for both Pakistan and the US, which had announced a $5 million bounty on his head.
The burly al-Qaeda-linked warlord has been the target of an intense manhunt for months and has narrowly escaped previous attacks. TV channels quoted intelligence officials as saying that Tehreek-e-Taliban Pakistan chief, charged with plotting the assassination of former prime minister Benazir Bhutto and a spate of suicide attacks across the country, had been killed in the Central Investigative Agency missile attack and his body buried near the village of Nardusai, deep inside Taliban-controlled area.
Dawn News channel reported that Mehsud's funeral prayers were held in Narkosa village. In Mehsud's death, US missile strikes have found one of their most high-value targets till date. According to security experts, the Taliban commanders have deputies who could take his place.
But whether a new leader could wreck as much havoc as Mehsud did would depend largely on how much pressure the Pakistan military continues to put on the network.
Image: A file photograph of Taliban leader Baitullah Mehsud talking to reporters in south Waziristan's tribal area | Photograph: Reuters