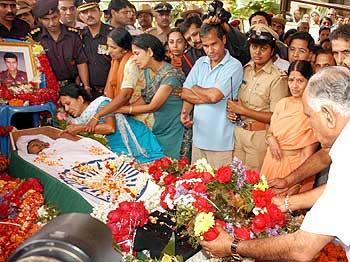 Vicky Nanjappa reveals how life has changed for the parents of National Security Guard Major Sandeep Unnikrishnan who died fighting terrorists at the Taj on this day last year.
"Why are they keeping Kasab alive? He should be hanged from a lamp-post, which will be a lesson for other terrorists. We saw him laughing on TV despite killing so many of our people."
Seething in anger is K Unnikrishnan who lost his son Sandeep during the Mumbai terror attacks.
Sandeep Unnikrishnan, an Indian Army major deputed to the National Security Guard, made the ultimate sacrifice trying to save lives at the Taj Mahal hotel on November 27 last year.
On Friday, the first anniversary of Sandeep's martyrdom, Unnikrishnan and his wife Dhanalakshmi "will be at the New Palm Lounge (at the Taj) constructed at the spot where Sandeep lost his life."
"We want to be with him on that day," says his father. "A Mumbai trip is never easy for us as it is there that he lost his life."
A year has gone by, but the Unnikrishnans, who live in Bengaluru, are yet to come to terms with the tragedy.
Says Unnikrishnan, who used to work for the Indian Space Research Organisation, "I last spoke to my son the day before he died. He called and told me about the incidents at the Taj. I thought it was a small operation by the NSG. It was only later that I realised that the situation was worse than I thought."
The Unnikrishnans want to preserve every memory of their son: Right from his photographs to the posthumous Ashok Chakra medal he was conferred with. Even a comb which Sandeep used during his last visit home has been lovingly preserved by his parents.
"He always had a smiling face. He believed in smiling so much so that he once even said that he did not like getting photographed for his identity card since it needed him to keep a straight face. We have learnt a lot from him and believe that we need to keep smiling even though we are going through a bad phase. My son is always with me and we will take him wherever we go."
Unnikrishnan says Sandeep had wanted to join the army since he was eight years old.
Sandeep was with the army's 51 Special Action Group -- which posted advertisements mourning his loss in national daily newspapers on Friday -- and had been with the NSG on deputation since January 2007. An officer of the Bihar Regiment, he was commissioned in the Indian Army in June 1999.
"None of us suggested anything to him. At a later stage, we wanted him to be in the IT sector. To that, he said the respect that one gets in the armed forces, one does not get anywhere," recalls his father.
Sandeep, Unnikrishnan adds, wanted to serve the army for two decades and then take up a civilian job.
The grief apart, there is a sense of pride in their son's martyrdom for the Unnikrishnans.
"My son became a hero. I am proud of him, but I didn't want to lose him ever. Sandeep laid down his life for the country's safety. But I don't know whether the country has become safer today. I feel that more people should join the army," says Unnikrishnan.
"Our nation needs heroes," he adds. "My son has instilled the feeling of nationalism and patriotism in me and I will always remember that."
Image: Karnataka Chief Minister B S Yeddyurappa pays homage to Major Sandeep Unnikrishnan last year as K Unnikrishnan, in a light blue shirt, and his wife Dhanlakshmi grieve for their son. Photograph: KPN Photos