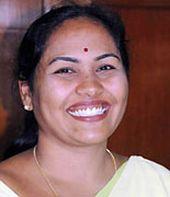 For someone who was unceremoniously dropped from the Bharatiya Janara Party government,
Shobha Karandlaje
seems extremely calm.
Rural development minister in the B S Yeddyurappa government in Karnataka she was dropped from the ministry following a 15-day battle between the chief minister and the Reddy brothers from Bellary, who are also state ministers.
Karandlaje, who started her political journey as a Rashtriya Swayamsevak Sangh worker, rose through the ranks and earned the tag of 'Super Chief Minister' because of her proximity to Yeddyurappa.

When the powerful and rich Reddy brothers fought with Yeddyurappa last month, the first thing they sought from the BJP's central leadership was Karandlaje's ouster.

"Life plays its own games," she says. "We need to learn to take it in our stride."
In an interview with rediff.com's Vicky Nanjappa, Karandlaje promises to bounce back.

Did you see this coming? Do you feel you have been used as a pawn so that Yeddyurappa could save his chair?

I don't agree with you. The circumstances were such... this sacrifice had to happen. I have just obeyed orders and I don't think there is anything wrong in that.

Your rise in the party is stunning. There are allegations in the Reddys camp that your proximity to the chief minister helped you grow.

My rise may have been stunning and not something that a lot many people can digest. Yeddyurappa has been like a father figure to me at all times. I have looked up to him and what is wrong in that? I have believed in hard work and have done only that.
My background has taught me to work hard in order to attain something and I have done just that. Allegations are generally made when a person works hard.

The talk of me being a 'Super CM' is rubbish. I was assigned the rural development ministry and I focused only on that.
For the past one-and-a-half years, I have dedicated a lot to the ministry I was in charge of and can proudly say that a huge change has been made.
I never interfered in anyone's portfolios and just stuck to my job.

Had it not been for the Reddy brothers, your position would have been intact. Do you hold any grudge against them?

No. I do not hold any grudges against anyone. As I said, things happen and we need to move on.

You appear extremely calm after so much has been said and done to you. Is this genuine or have you been told to remain silent?

I am acting on my own will. I have not been told anything.

If proximity to the chief minister or acting like a proxy chief minister is not the reason for your ouster, then what is?

Honestly speaking, I really wish I knew what it was.
I am not worried about losing my ministry nor do I feel victimised. However, I know that there is something wrong and I really wish someone was clear about it.
I know I have been dropped all of a sudden and I don't even know what my fault is.

Neither the state leadership nor the high command has till date told me why I have been dropped from the cabinet.
My proximity to the chief minister or me acting like the chief minister is a baseless allegation. My work in my ministry would speak for itself.
I have not done anything wrong to go up the ladder.

Doesn't the BJP high command's attitude anger you?

No, it does not. A person who wishes to work would work whether he or she has a ministry or not. I have nothing against the high command. I believe that they have taken a decision in the interest of the party.

The Reddys have said a lot about you. What action do you contemplate against them?

I don't contemplate any action. The crisis is resolved and I think it is best I keep quiet and let the government function.
I don't wish to kick up any dirt and destablise the government.
A lot of time has been lost and I think the government should get back on track and work for the people of the state.

Mr Yeddyurappa cried the day you resigned. What do you have to say about this?

I do not wish to comment. All I have to say is that he is like a father figure to me.

The talk is that Mr Yeddyurappa plans to make you the next state BJP chief.

I don't have an idea about that. Maybe you could give me more details about it.
However, let me make it clear that even if I am offered the post, I would not accept it. I am not competent to handle that post.

What next? Is this the end of the road for you? Will you return to the RSS or remain in active politics?

No. This is not the end of the road for me. I will bounce back, and that is for sure. The people of the state have understood my work and have sympathy towards me. I don't believe in quitting.
Before joining active politics, the RSS leadership had told me that now that I have taken this step there should be no looking back. I will do exactly that.

Until I make my comeback, I shall do social work. This is not the end for me. I will bounce back for sure, and very soon.