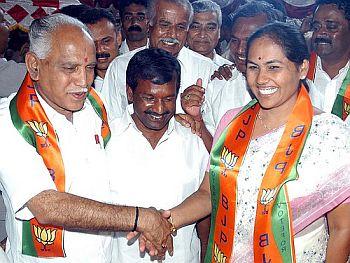 Vicky Nanjappa analyses the rise of Shobha Karandlaje in Karnataka politics and how she could play a key role in Yeddyurappa's growing political detractors.
Since day one, Karnataka Rural Development minister Shobha Karandlaje has been in the eye of a storm. Today, the only woman minister in the Bharatiya Janata Party government is being cited as the main reason for Chief Minister B S Yeddyurappa's problems.
Yeddyurappa will have to take one of the hardest decisions of his political career when he drops Shobha from the ministry in order to save his chair.

But just who is Shobha Karandlage?
Hailing from Puttur in coastal Karnataka, Shobha renounced all pleasures of life and joined the Rashtriya Swayamsevak Sangh at a very early age. In fact, she is one of the few women 'purna pramana' (full-time worker) in the RSS. Full time workers of the RSS sacrifice everything, including family. They also vow that they would never get married.
Hence, Shobha has always been RSS's preferred worker. Even when she decided to join politics, the RSS gave her the initial push since they believed that she would not have any business interests and would work selflessely for the party.
Once she entered into active politics in the BJP, she worked alongside Yeddyurappa. She treated him as her godfather. Critics now allege that Yeddyurappa had a soft corner for the 44-year-old, which ensured her growth within the party.
Shobha has always courted controversies. When she was made BJP's general secretary, there was a major uproar in the party. Several leaders thought that her proximity to Yeddyurappa earned her the position. It was also alleged that she was preferred over several senior leaders. However, the only explanation given at that point of time was that she was a dedicated worker and that the party needed such workers in the state.

The RSS backed Yeddyurappa and ensured that Shobha stayed on the post.
The next round of discontent was witnessed when she was made Member of the Legislative Council in Karnataka in 2006-07. During this period, Yeddyurappa was deputy chief minister in the Janata Dal-Secular-BJP government. Once again, Yeddyurappa managed to scuttle all voices of protest. He never let her down.

Although several allegations have been levelled against the two, Yeddyurappa has always maintained that Shobha is a dedicated worker and that there is nothing beyond that. Shobha too, in her defence, has reiterated that Yeddyurappa is a like a father to her and that allegations of favourtism are baseless.
The biggest issue that the duo confronted was when Yeddyurappa fielded her as candidate from the Yeshwanthpur constituency during the last elections. Despite severe opposition Yeddyurappa went ahead. He had a feather in his cap to take up Shobha's case when she won the elections convincingly.

There was more opposition when he decided to induct her into the ministry and also gave her the crucial portfolio of Rural Development. However, Yeddyurappa ignored the voices of protest.
The importance of Shobha in the BJP was clear. All one could see during a drive from Mysore to Bangalore are banners with Shobha on it. She has stamped her presence and her message is clear -- she is here to stay.
Over time, the voices of opposition continued to grow against Shobha. In particular, the Reddy brothers from Bellary were upset with her. They have, on several occasions, termed her as the de-facto chief minister of the state. Her proximity to Yeddyurappa irked many and there was not a single photograph in any media that did not have the CM and Shobha together.
The faction led by the Reddy brothers even alleged that she influenced Yeddyurappa's every decision. They claimed that the CM was using her to get back at them. Some bureaucrats in Karnataka, who speak in a hushed tone, say that several times the files meant for the CM went through Shobha.
While all these allegations were being made, the last straw for the Reddy brothers was when she interfered in their portfolio. During a trip to Bellary, Shobha openly conducted a review of the revenue department and is said to have pulled up a lot of officials for apathy.
Karunakar Reddy, one of the Reddy brothers who is the revenue minister, screamed out on roof tops that this was utter interference and she had no business to do so. This is being cited as one of the primary reasons for them to demand the ouster of Shobha from the cabinet.
Yeddyurappa, all through this crisis, did try to fight her case but gave up in the end and decided that he had no option but to remove her in order to save his seat. Shobha too has been very supportive of his decision. When asked about the development, Shobha said she would resign in the interest of the party if she was asked to do so. However, rumour has it that Yeddyurappa plans on accommodating her as the next BJP state chief.
Shobha, according to the BJP, was in an advantageous position compared to the other woman folk in the BJP. The other powerful woman leader, Pramila Nesargi failed to win an election for the second time and hence the party distanced her. While the initial push for Shobha was given by the RSS, it was Yeddyurappa who played a major role in shaping her career.

Photograph courtesy: Daijiworld