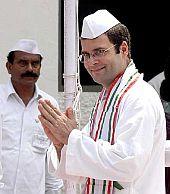 The succession drama in Andhra Pradesh seems to have taken a short break. Soon after the Andhra Pradesh government announced the death of its Chief Minister Y S Rajasekhara Reddy in a helicopter crash last week, the race among contenders for the top job in the state became intense. 
Members of the ruling party were divided into camps, each projecting its leader as the rightful heir to the seat that fell vacant after Rajasekhara Reddy's sudden death. The shrillest campaign was organised by the deceased leader's son, Y S Jaganmohan Reddy. But once Congress president Sonia Gandhi told the different camps to desist from making a public display of their succession claims, there is now an apparent lull.
A new government has been sworn in with K Rosaiah as the chief minister. Several other members of the Rajasekhara Reddy government have been re-inducted into the new ministry. It is likely that once the mourning period is over, the Congress high command in New Delhi may decide to reopen the succession issue. There is also a distinct possibility that having quelled the initial drama over succession, the Congress leadership in New Delhi may just decide to buy some more time and let the Rosaiah government stabilise the situation for some more months. After all, the next assembly elections are still five years away.
That move might upset Y S Jaganmohan Reddy and his large band of followers in the state, although it is not clear for how long he will remain the favourite candidate to succeed his deceased father. In politics as in life, time is a great leveller and power begets more power.
If K Rosaiah manages to stabilise the political situation and beefs up the state administration and governance, he is likely to emerge as an alternative to Y S Jaganmohan Reddy. Note that K Rosaiah's earlier public pronouncements to the effect that he had no objection to Jaganmohan Reddy becoming the next chief minister were made when it was widely believed that Sonia Gandhi would quickly decide in favour of the son taking over from the deceased father, in tune with the spirit of dynastic politics that prevails in the Congress.
That belief is now under scrutiny. Indira Gandhi was assassinated in 1984. Her son Rajiv Gandhi succeeded him. Sonia Gandhi took her own time before joining politics and taking charge of the Congress. That was a long gap and many political pundits had believed that Sonia Gandhi would not return to the Congress. Proving them wrong, she did reclaim her numero uno position in the Congress and has been leading the party since then with a reasonable degree of success.
Has she dispelled doubts about dynastic politics influencing the choice of the next leader of a Congress-ruled government? Not really, although she has let it be known that she does not decide what her son Rahul Gandhi would do. That decision, she is believed to have argued, is left to the son. Yet, few will believe that the Congress does not follow dynastic politics.
The importance of the succession drama in Andhra Pradesh lies in this. Would Sonia Gandhi's stance have changed if Rahul Gandhi had joined the government immediately after he joined politics and won the Amethi seat in the 2004 general elections? That Rahul Gandhi has still not joined the government at the Centre even as a junior minister has certainly made a difference to the Congress president's approach to Y S Jaganmohan Reddy's spirited claims to succeed his father in Hyderabad. Jaganmohan Reddy may well have been told that he should not be in a hurry and learn from Rahul Gandhi.
Are we then seeing a new phase of dynastic politics in the Congress? Yes, sons and daughters will get a preferred treatment in the political party of their parents. But that preferred treatment will not guarantee succession immediately after the parent disappears from the scene. Instead, sons and daughters will have to learn to wait and go through a period of political apprenticeship before becoming ready to take on leadership roles. In other words, Rahul Gandhi turned out to be bad news for Y S Jaganmohan Reddy. It is likely that many other young Congress leaders may have also got worried after what happened to Y S Rajasekhara Reddy's son.
Powered by