India, Pak sing the same tune in New York
Last updated on: September 26, 2010 18:37 IST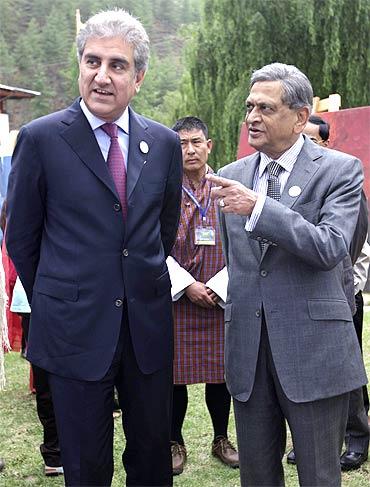 Ahead of a possible meeting of their foreign ministers in New York, India and Pakistan have underlined that despite their differences on issues like Kashmir and terrorism, they have no other alternative but to engage in dialogue.
"Today there is a realisation that a negotiated solution is the only sensible way," Pakistan Foreign Minister Shah Mahmood Qureshi said, stressing his support for the Composite Dialogue while addressing the Asia Society in New York.
External Affairs Minister S M Krishna said India wants to engage Pakistan in talks as it is the only way forward. "India wants to keep Pakistan engaged in talks because we do not see any other alternative, talks are the only way to take this forward," he told the Indian media at a reception held at the Indian Mission to the United Nations.
Islamabad favours a result-oriented meeting
Last updated on: September 26, 2010 18:37 IST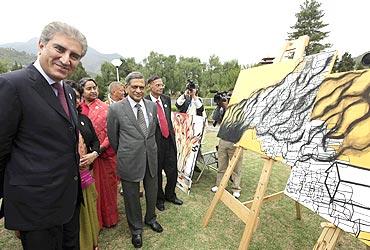 At this stage, Indian diplomats have not confirmed any meeting between the two ministers on the sidelines of the UN General Assembly session, but a senior Pakistani diplomat claimed that a meeting had been cleared by both ministries and was expected to take place early next week.
Krishna will be in New York till September 29 while Qureshi will be here till September 30. Pakistan's Dawn newspaper reported that Qureshi and Krishna are likely to meet on Monday on the sidelines of the United Nations General Assembly session.
During a 'chance encounter' between the two leaders on Thursday, Qureshi had exchanged pleasantries and thanked Krishna for the help given to Pakistan by India through the UN for the flood-affected people.
The paper quoted a Pakistani diplomat as saying that Qureshi had earlier told his Indian counterpart that Islamabad favoured a result-oriented meeting, not another photo opportunity.
'Everything will be discussed'
Last updated on: September 26, 2010 18:37 IST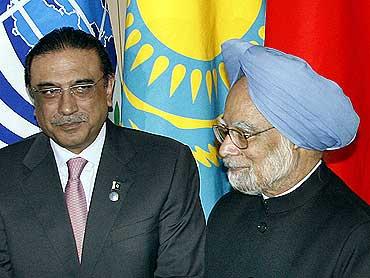 "Foreign Minister Shah Mehmood Qureshi has made it clear we don't want a meeting for the sake of photo-op. We want a real substantive meeting," he was quoted as saying.
Krishna also said that he looked forward to hosting Qureshi in India. "Well I was in Islamabad and we did talk and I have invited Excellency Qureshi to come to India and he has very graciously accepted my invitation," Krishna said.
"Everything that they want to discuss and everything we want to discuss with them will be discussed" during Qureshi's possible visit to India for talks, he said.
Qureshi, during his address to the New York-based think tank, stressed that people in India and Pakistan wanted peace and both countries were losing out if the hostility persisted.
'Mumbai was a setback'
Last updated on: September 26, 2010 18:37 IST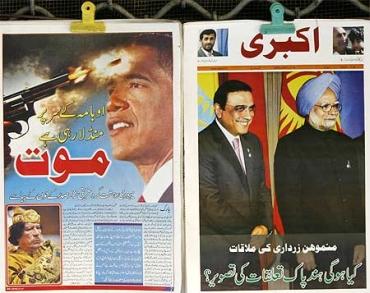 "There are large sections of people on either side of the border that feel normalisation makes sense, they feel that there is a peace dividend that we are being deprived of, they feel there is a lot of potential of bilateral trade," he said.
Noting that the Mumbai terror attacks were a big setback for the incremental gains achieved in the Composite Dialogue, Qureshi said that New Delhi should have kept the dialogue going after the 26/11 terrorist attacks.
"Things were gelling very well and then Mumbai happened. Mumbai was a setback, it was a huge setback for normalisation," the Pakistani minister said.
"If we disengage, we are playing into the hands of those very elements that want disengagement...the message they get is by one incident they can turn the process back," he added.