Pen: The village that became Ganesha's abode
Last updated on: September 16, 2010 16:32 IST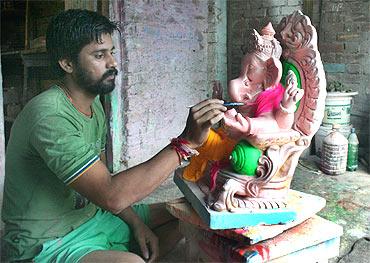 Uttam Ghosh and Abhishek Mande travel to Pen, a village in the Sahyadri's, where Ganpati idols are traditionally made.

Situated a little over 80 km from Mumbai, Pen is a small town that like most other small towns in India was once a village. Yet in more ways Pen is a far cry from all those towns, where today swanky cars occupy most of the narrow roads and malls and multiplexes have sprung up.
There are, as far as the eye can see, not many tall buildings. The only tall building stands in the market square, a quasi-administrative structure, rather ostentatiously named after former chief minister Sharad Pawar.
The roads are in poor condition and most residents of Pen continue to use the state transport buses to reach Mumbai. A six-seater contraption called Vikram that accommodates at least a dozen people is the most reliable form of local transport.
For most of the year, Pen is an all but forgotten place, a signboard that you pass while heading to Alibaug, a popular tourist destination for Mumbaikars.
Come Shravan, the holy month of the Hindus, and Pen is tthe cynosure of all eyes. Traffic heading into the town suddenly goes up and along every street corner, vehicles with blue plastic sheets covering their frames stand solemnly, before houses that seem busier than ever.
This is where Ganeshas come to life -- some of them sitting comfortably with a modak in their right hand, others dancing with a little drum, some which espouse a social or patriotic message.
This small town that was once a village is now Ganesha's abode. It has been that way for over 115 years when a few men, having migrated from various parts of Maharashtra made Pen their home.
Pen: The village that became Ganesha's abode
Last updated on: September 16, 2010 16:32 IST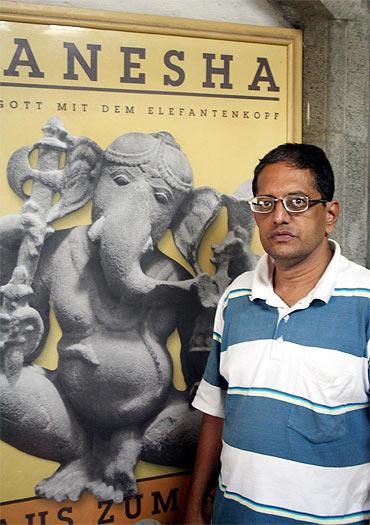 One such man was Bhikaji Deodhar, a Bramhin, who like many other young men of his time was heading towards Mumbai in the hope of striking gold.
"For some reason he thought of staying back in Pen," his descendant Shrikant Deodhar tells me. "The rest of his friends carried on. Some started khanavals (home-run restaurants in Mumbai's chawls that would serve food to mill workers) others must have ended up doing odd jobs here and there."
But Bhikaji was a man of artistic talents. He knew how to make some of the most beautiful Ganesha idols out of clay. "The original practice during Ganesha Chaturthi was to make simple idols out of mud in your backyard, worship it for ten days and then immerse it in the well of your house," Shrikant says. "It was much later that Ganesha festival became as big as it did."
During India's struggle for freedom, Lokmanya Tilak started the tradition of public festivities during Ganesha Chaturthi. It was used as a front for anti-British rebels who met in secret.
Bhikaji Deodhar however wasn't the only murtikar (idol maker) in Pen. Some of his other contemporaries included one Gajanan Bandivdekar and a Balu Chitari among others whose names have been lost in history."Unlike the rest, the later generations of the Deodhars continued following in on their forefathers' footsteps," says Shrikant who is a fourth generation murtikar and part of the oldest surviving Ganesha making family in Pen.
The 52-year-old Shrikant is writing a book on the history of Pen and its Ganesha making industry because 'it is about time'."No one from our next generation will be in this business now," he says rather matter-of-factly.
Shrikant too wants to bow out of the race while he is still ahead and focus on serious art installations. A fibreglass sculpture that sits outside his office is a fine example of his talent.
His daughter a commercial artist graduate from the JJ School of Art is now married and settled in the US. His cousin Anand Deodhar's children too are working overseas.
Pen: The village that became Ganesha's abode
Last updated on: September 16, 2010 16:32 IST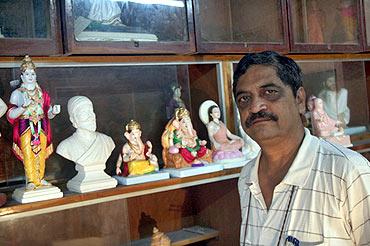 Anand, who may not come across as forthcoming as Shrikant, is also planning to stop making Ganesha idols. "I am 58 and I don't think I want to make Ganeshas any more," he says and pointing to a huge idol of a saint that will travel to a temple in Kerala continues, "I'd rather specialise in idols  these than be part of the (Ganesha making) rat race."
Much before it became a commercial hub for Ganeshas it is today, Pen was a sleepy village that saw little or no activity.
The primary reason for the rise of the Ganesha-making industry in Pen has been its accessibility to two of Maharashtra's primary centres of trade and culture -- Mumbai and Pune.
Shrikant Deodhar tells you that Puneites discovered Pen because because a girl from a local family (Kolhatkars) married Sadashivrao Peshwa. The ties with Mumbai strengthened when Ganeshas from the town began to get noticed.
Shrikant says, "Pen is strategically located. Traditionally this was the first stop, the first 'pene' (pronounced pay-nay) for everyone who travelled from the coast and would be heading towards the plateau and vice versa and also for those heading towards and away from Mumbai. So it was always a busy junction. A little over 60 years ago we even had a harbour in Pen!"

Interestingly, besides its location, Pen had nothing going for it for the Ganesha making business to prosper. The soil there is red and unsuitable for making any kind of pottery or artistic clay modelling. Yet idol making took roots so deep it pretty much powers the economy here today.
Pen: The village that became Ganesha's abode
Last updated on: September 16, 2010 16:32 IST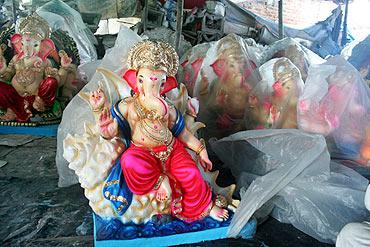 "In the olden days a lot of ships would bring their wares from Gujarat. The ships from Gujarat would have hundreds of sacks of sand to balance the load. Once the goods were offloaded, these sacks would be thrown away. Someone somewhere realised that the sand was ideal for making clay idols and that was how it started. To this day we buy clay and Plaster of Paris (PoP) from Gujarat and parts of Rajasthan," Shrikant says animatedly.
Shrikant said that it was his grandfather Baburao Deodhar, who pioneered the art of making idols using PoP moulds. "In 1941, he got large order from the Prabhat Film Company to make idols of Sant Dnyaneshwar. Things took off from there for us."
From 1950 to 1980 was a glorious time for the industry as well as for the Deodhars. Business increased but it was Baburao's two sons Rajabhau and Wamanrao who would take the business to new heights. "The factory had over 80 workers at one point till they split. Then they began working separately but flourished nonetheless," Shrikant informs.
It was from these 80-odd workers that a new generation of murtikars would be born. Having trained under the Deodhars, these young artisans would start their own businesses.
"Pawar, Gurav, Pathak, Hazare, Bhoir " he lists out names of the prominent Ganesh-making families, "All these people used to work for my uncle and father."
Interestingly the heart of Ganesha making within Pen is a lane called Kasar Alee (literally translated as 'utensil makers alley'), which as its name suggest used to house brass and copper utensil makers.
Pen: The village that became Ganesha's abode
Last updated on: September 16, 2010 16:32 IST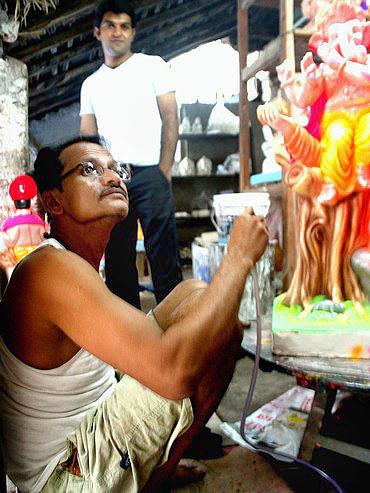 50-year-old Shekhar Samel, sitting on his haunches giving finishing touches to a Ganesha idol, is one such fellow. He's a man of few words but he tells you that copper and brass utensils began to fall out of popularity with the advent of steel. Had he not turned to Ganesha making about 30 years ago, his and his brother's family would have had nowhere to go.
Today, the Samels make a little over 3,500 Ganesha idols each year. Since it's a male dominated industry, his two nephews  run the show with his brother. They hire some help from outside and manage to keep afloat.
However with labour slowly emerging as a serious issue within Pen, Shrikanth Deodhar predicts that people like Samel will have to increasingly depend on their family hands to support themselves or take a serious cut in their profits to stay in business. Labour today isn't cheap as it used to be. There are also fewer people wanting to continue in this profession. Evidently there is much more money outside of this town and the younger people are happy to explore it," Shrikant tells you.
Pen: The village that became Ganesha's abode
Last updated on: September 16, 2010 16:32 IST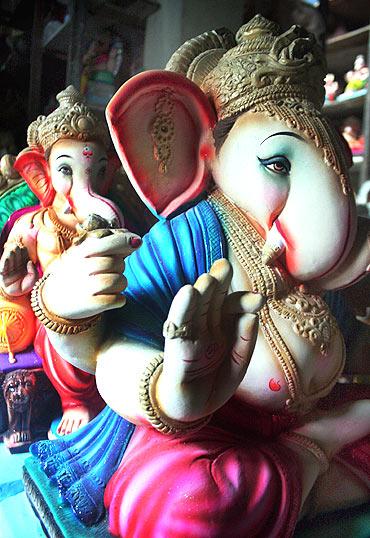 Anand Deodhar spells out what his cousin Shrikant has perhaps only been suggesting, "Today only those who have no other career option for themselves get into this business. Everyone talks about Ganesha making as an art in Pen. But I don't see any artists left here. Today it has become mechanised."
This hasn't escaped the notice of our photographer, an alumnus of Mumbai's Sir Jamshedjee Jeejeebhoy School of Arts, who while taking pictures, points out how mechanical the process seems.
You too can see why Anand, also a JJ graduate, is upset. Of the total number of Ganeshas (Shrikant Deodhar says its about 15 lakh while another artisan, Shrikant Chachad pegs it at about 30 lakh) only five per cent are made out of clay. "The rest are simply out of PoP moulds and can be made by anyone," he rues.
Anand himself insists on making Ganeshas out of clay. You can make out the difference. His idols may not be as big as the others but they are almost pieces of art you wouldn't want to part with.
Unsurprisingly when he tells one of his customers -- a Pune-based couple -- that he may shut operations the next year or the year after next, they are mighty upset. "Don't do that," they plead almost childishly. Anand reminds them that he's growing old (he is 58) and might want to take it easy. Besides, Ganesha making isn't what it used to be he tells them.
You want to tell him that nothing ever is. But Anand Deodhar has already turned around and walked into his workshop. He switches on the lights and poses for a photograph with some Ganeshas in the backdrop. Maybe they won't be here next year.