Jagan Reddy: The man who defied Sonia
Last updated on: July 15, 2010 10:45 IST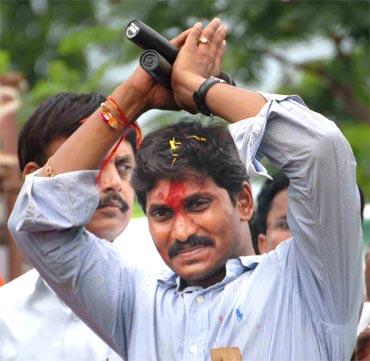 Congress Member of Parliament Y S Jagan Mohan Reddy, who has been critical of the party leadership and Andhra Pradesh Chief Minister K Rosaiah, has kicked off the second leg of his Odarpu Yatra in coastal Andhra Pradesh in East Godavari district.
Jagan, as he is referred to, undertook the Yatra to purportedly express his condolences to the families of those who died in the wake of his father and then state chief minister Y S Rajasekhara Reddy's death in a helicopter crash in September 2009.
The 'condolence tour' has turned into a colourful road show. Thousands turn up to meet the young leader, who greets them from the open door of his vehicle.
Jagan, 37, has ignored Congress president Sonia Gandhi who asked him to call off the Yatra after his earlier tour resulted in large-scale violence triggered by pro-Telangana activists.
Critics call it a political stunt
Last updated on: July 15, 2010 10:45 IST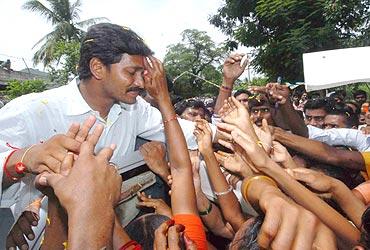 Jagan has repeatedly claimed that the Yatra is not political in nature. But his detractors claim it is a political stunt to stake a claim for the chief minister's post.
Congressmen close to him claim he enjoys the support of nearly 80 per cent of the party's legislators.
The Yatra has exposed the cracks in the state Congress party, which is facing the possibility of a split right before the crucial by-elections in Telangana on July 27.
Union Law Minister M Veerappa Moily, the Congress leader in charge of Andhra Pradesh, is scheduled to visit the state on Friday to find a solution to the crisis.
Despite warning, some Congress leaders join yatra
Last updated on: July 15, 2010 10:45 IST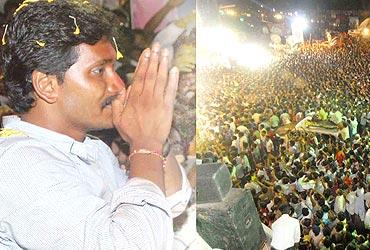 The Congress had earlier termed the developments as an internal matter of the party.
Jagan, who hit out at Rosaiah on the last day of his Yatra in Srikakulam district on Sunday for apparently saying that he is in a hurry to become chief minister, is now touring the villages of the coastal Andhra region.
Congress legislators from the district Raja Ashok Babu and R Varaprasad accompanied him during the Yatra.
Rosaiah had categorically warned Congress Members of the Legislative Assembly against participating in Jagan's Yatra.
'Ashok anna (brother) has been accompanying me without being concerned about whatever is said. I am indebted to him,' Jagan responded.
'Jagan is a young man who is moving ahead with speed'
Last updated on: July 15, 2010 10:45 IST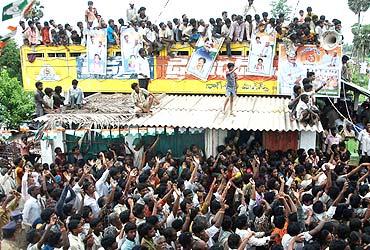 Congress Member of Parliament V Arun Kumar, a close associate of the late Y S Rajasekhara Reddy, met Jagan on Monday night.
'Jagan is my colleague in Parliament. He is the son of Rajasekhara Reddy. Since he came to our district, I met him out of courtesy. He did not ask me to meet him and nobody told me not to meet him,' the MP from Rajahmundry said.
Claiming that there is no 'gulf' between Jagan and Rosaiah or the party leadership over the Yatra, he said the prevailing situation was merely a storm in a tea cup.
'I don't think any gulf is possible between Rosaiah and Jagan because they belong to different generations. Rosaiah is a veteran leader. Jagan is a young man who is moving ahead with speed,' Kumar said.
'Jagan might have made the comments against the chief minister on the spur of the moment and too much should not be read into it,' Kumar said.