Jyoti Basu: Last of the titans
Last updated on: January 20, 2010 15:00 IST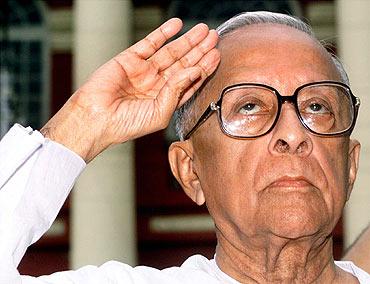 With the passing of Jyoti Basu, the curtain falls on an era of titans that will never fail to evoke in future generations wonderment tinged with disbelief.

Basu was indeed the embodiment of charismatic leadership approaching that of Jawaharlal Nehru. No one has come to symbolise the struggles and sacrifices of the Left as well as the aspirations of the masses more strikingly than Basu. His long tenure of 23 years without a break from 1977 to 2000 as the chief minister of West Bengal has no parallel in the history of post-Independence India.

There is only one explanation for this: The credibility and esteem commanded by Basu and his accommodating temperament ensuring political coordination among Left Front partners which made them function in unison and with a sense of mission.

Three practices he adopted to bring about perfect understanding between the political and administrative wings of the government and thereby provide effective governance are worth emulation.

Click on NEXT to continue reading....


'He trusted and supported his officers to the hilt'
Last updated on: January 20, 2010 15:00 IST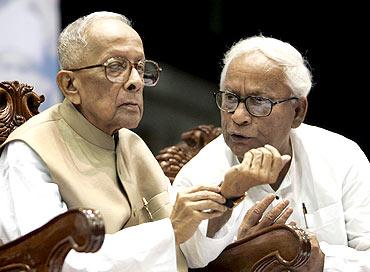 Every morning, leaders of the constituents of the Left Front used to meet at the office of the CPI-M in Kolkata, to discuss threadbare all issues coming up for decision or likely to pose difficulties, and arrive at an agreed course of action.

Thus, he cemented the disparate constituents of the Left Front into a spearhead for the state's progress.

Second, he used to hold periodical meetings with ministers and officials to monitor and review pending matters and progress of ongoing schemes and projects to tone up performance and solve problems as they arose.

Third, knowing that a good workman did not quarrel with his tools, he trusted and supported his officers to the hilt. He never indulged in petty vendetta nor ever resorted to the gimmick of the so-called 'bureaucratic shake-up' as all other dtates do from time to time. In fact, thanks to him, the relations between ministers and officials are of the best in West Bengal even today.


'To deny PM's post was indeed a historic blunder by the CPI-M'
Last updated on: January 20, 2010 15:00 IST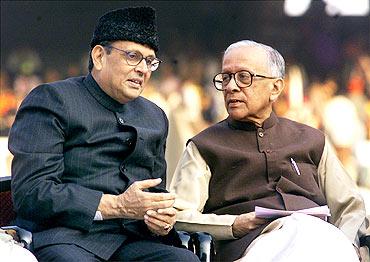 There is much for political scientists and parties to learn from the strategy adopted by him to win over the Gorkha National Liberation Front, on the strength of the solid weight of public opinion he mobilised with the support of all other political parties and sections of the people in West Bengal.

On the industrial front, the prompt response captains of industry, business and trade got from him in times of trouble, whether due to trade union agitations or systemic rigidities, generated among them such euphoria about their being wanted and welcome that West Bengal once again became the favoured destination for investment.

It was during his time that the turnaround in power generation occurred and the chronically power-deficit West Bengal became power-surplus.

In many ways, in matters of governance, Jyoti Basu modeled himself on, Dr B C Roy, the first chief minister of West Bengal in free India. He was always ready to acknowledge Dr Roy as his mentor, and I have personally been witness on several occasions during proceedings of the state assembly to Dr Roy, with the wagging of his index finger, summarily asking Basu to pipe down when he was in the midst of some question or speech, and Basu obeying the great man and sitting down instantly.

He blended within himself the political commitment to public weal with the ability to get things done by leading from up front all the stakeholders, To deny a person of such calibre and competence, the opportunity to put his stamp on the governance of India as its Prime Minister was indeed a 'historic blunder' committed by the CPI-M.


'He rose above party considerations'
Last updated on: January 20, 2010 15:00 IST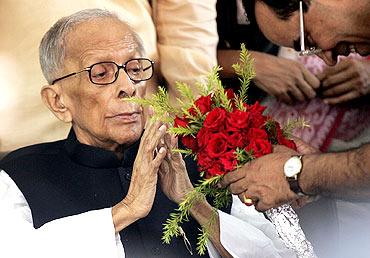 In his evening years, he morphed into a sage statesman par excellence, rising above party considerations, and offering advice on the best manner of resolving sensitive and burning issues of the day, in the best interest of the nation as a whole.

It is difficult for me to think of Jyoti Basu without being overwhelmed by a flood of memories. I knew him closely from 1955 when I was the Sub-Collector of Barrackpore, and he was the lone non-Congress MLA, among the 12 MLAs and two MPs elected from constituencies within my jurisdiction.

Initially, Basu was unsure of my attitude towards an MLA not belonging to the ruling party, but I put him at ease and was particular in attending to matters relating to his constituency and even, on occasions, took him in my jeep for spot inspections.

Jyoti Basu, for some reason, maintained an unsmiling visage and there is hardly a picture or public occasion showing him smiling, leave alone laughing. I once went to him and asked whether I had his permission to raise a question on Marxism-Leninism.

He looked up sharply, which I took as an encouragement. Keeping a poker face, I asked him, "Sir, has Marxist philosophy anywhere barred a communist from smiling?" Mr Basu burst out laughing, and since then, I think I was the only person on seeing whom he broke into a broad smile.


'A legend in his own lifetime'
Last updated on: January 20, 2010 15:00 IST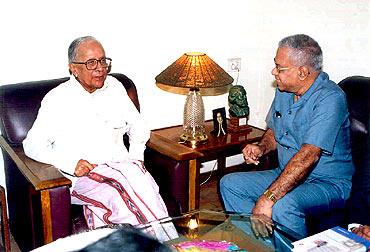 Among my other memories, is the nobility he showed following a brush I had with him when I was the Chief Electoral Officer, West Bengal, in 1969. It came about thus.

Addressing a public meeting as part of the election campaign, he was reported to have said that his party (CPM) was making out a list of government employees and the police who were preparing to rig the elections in favour of the Congress, for teaching them a lesson after the elections which his party was bound to win.

I served a notice on Basu that, if the report was true, it was actionable for criminal intimidation under the law and asked him for an explanation why action to that effect should not be initiated. This made it to bold headlines on the front page all over the country.

Basu replied within a couple of days that his speech was not meant to be a threat against public servants discharging their duties impartially. Following this, he also came to see me at the Writers Buildings and promised all cooperation in my efforts to ensure smooth conduct of elections.

At the end of the hour-long meeting, during which I gave him some iddlis and home-brewed coffee, the media persons surrounded us and asked whether our differences were sorted out, and Basu graciously said that there were no differences in the first place.

It speaks volumes for the sense of fairness and accountability of one who was a legend in his own lifetime and whose death leaves a void that cannot be filled for a long time.

B S Raghavan was an officer of West Bengal cadre of the Indian Administrative Service and knew Jyoti Basu closely from 1955.