'We are with you Mumbai!'
Last updated on: November 27, 2009 11:25 IST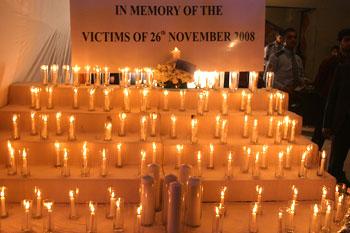 Rediff.com journalists Vaihayasi Pande Daniel and Rajesh Karkera attend an emotionally-charged ceremony marking the killing of Jewish Rabbi Gavriel and his wife Rivka Holtzberg in the attack on Chabad House during the 26/11 carnage. They also attend a parallel ceremony, mourning slain NSG commando Gajendra Singh.
The Jewish year of mourning for Rabbi Gavriel and Rivka Holtzberg, who were brutally slain at Nariman House, Mumbai, along with four other Jews and NSG commando Gajendra Singh, ended November 26.
An over-riding theme was the complete peace the Jews have always known in India for over 2,000 years that ended on 26/11. The Israelis, in attendance at the ceremony in front of the Chabad House, referred again and again to the fact that anti-semitism is an unknown word in India.
'The world is a very narrow bridge'
Last updated on: November 27, 2009 11:25 IST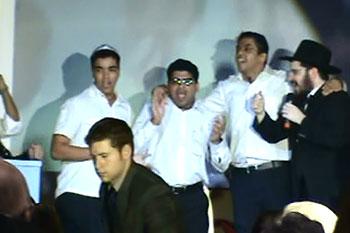 The highlight of the moving memorial ceremony for Mumbai victims, organised by the Chabad Lubbavitch movement, and held in Hormusji Street, Colaba, south Mumbai, was a song and dance performance by a rabbi, along with local Indian Jewish boys, in Hindi, Hebrew and English called
The world is a very narrow bridge
.
A parallel ceremony
Last updated on: November 27, 2009 11:25 IST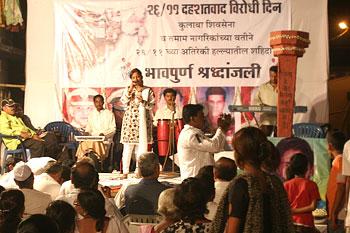 In interesting and chaotic contrast -- that reflects the diversity and richness of India -- immediately adjacent to the Nariman House, which was illuminated in deep blue, a parallel ceremony remembering the lives of Harish Gohil, Gajendra Singh and other Mumbai heroes was being celebrated.
On stage, a local singer was keeping the audience rapt with her upbeat rendition of the patriotic song
Nanha Munna Rahi Hoon Desh Ka Sipahi Hoon
for audiences in the Colaba Bazaar.
This ceremony was organised by the local Shiv Sena unit under the command of shakha pramukh Vijay Surve. The only sour note in this picture of harmony, that is Mumbai, was when a troupe of Bajrang Dal activists came by, attempting to burst into both ceremonies to protest the celebrations.
An audience enthralled
Last updated on: November 27, 2009 11:25 IST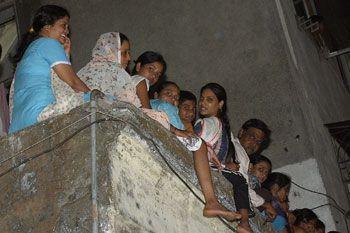 Local Colaba-ites hanging out of their windows to watch the evening proceedings from next-door buildings clapped vigorously along with the audience at the Nariman House ceremony. 
Attendance at the ceremony was high profile with even Maharashtra Chief Minister Ashok Chavan dropping in at the end.

Minister of State for External Affairs, Shashi Tharoor, who spoke very eloquently, stopped by to light a candle and offer a rousing speech. He said 26/11 was the first time in India's history when it became unsafe to be a Jew in India. 
The valiant are not forgotten
Last updated on: November 27, 2009 11:25 IST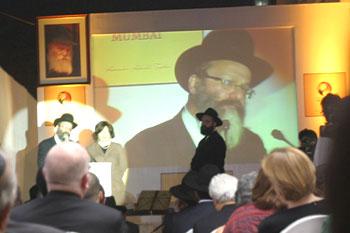 Israel's Ambassador to India Mark Sofer, equally well-spoken, touched on what he could not forget about November 26, which in addition to the exceptionality of Rabbi Gavriel and Rivka Holzberg, included the heroism of the Indian forces and Moshe Holtzberg's nanny and saviour Sandra Samuel. Sandra's sons were at the ceremony.
In an evening dedicated to poignancy, unreservedly heartbreaking moments were when Shimon Rosenberg, Rivka Holtzberg's father, who was in Mumbai from Afula, Israel, for the ceremony along with her pregnant sister, spoke in halting, painful English about the manner in which the couple's only surviving child Moshe asked about his parents.
Emotional scenes
Last updated on: November 27, 2009 11:25 IST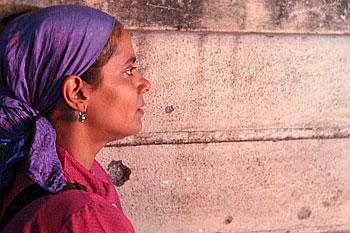 At that point, a young Indian Jew woman, nearby, her hair sheathed in a purple scarf, turned her head into the hard stone wall of the former Chabad House and wept bitterly.
Equally emotional was the screening of a video of Rivka and Gavriel's life in Mumbai to the accompaniment of a haunting Hebrew song. Scenes of a mostly laughing and happy Rivka, always with Moshe settled comfortably on her hip, enjoying her life in India along with Gavriel, flitted past on the screen.
Couple etched in Chabad's history
Last updated on: November 27, 2009 11:25 IST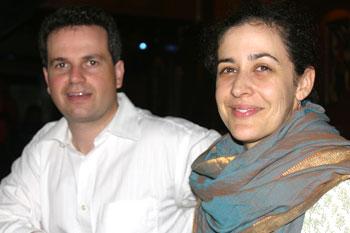 One of the scenes of the Holtzberg life video was of the only wedding that took place at Nariman House. A young couple, the beautiful bride shyly veiled, stood looking at each other on the Chabad House terrace in a memorable black and white shot.
At that point Avraham Berkowitz, the rabbi coordinating the rebuilding of the Mumbai Chabad House and the master of ceremonies of the memorial ceremony that evening, called a couple from the audience to the stage. They were Simone (from South Africa) and Bernard (from France) -- the very same couple who had married on the roof three and half years ago, who now live in Delhi and have two children.
Bernard recalled quietly the enthusiasm with which the Holtzbergs organised their wedding even though he had no prior acquaintance with them.
'Mumbai will be resilient again'
Last updated on: November 27, 2009 11:25 IST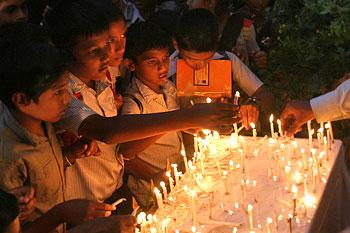 Moshe J Kotlarsky, a leader of Chabad Lubbavitch movement, from Crown Heights, Brooklyn, New York, spoke powerfully, in ringing tones: "The eyes of the world are on Mumbai tonight. The eyes of the world were on Mumbai last year for five days when terror of an unknown proportion struck."
"The eyes of the world were on Mumbai last year in awe of the 173 innocent lives lost so the we can continue to live in a world of democratic freedom," he added.
Berkowitz reiterated this message remembering the "darkness and horror" of a year ago that entered "our" lives when innocent people were struck down in the street. "Mumbai will be resilient again. We are with you Mumbai!"