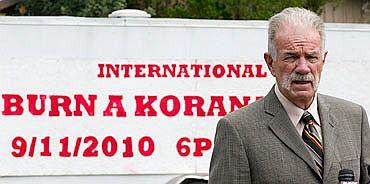 In a dramatic turn of events, an American Pastor, who drew global outrage for his plans to burn copies of Quran on the anniversary of the 9/11 terror attacks, on Friday said he was "rethinking" his decision to call off the proposed act.
Within hours of his announcement about cancelling his plans to burn 200 copies of Quran on anniversary of 9/11 attacks on Saturday, pastor Terry Jones said he was "rethinking" his decision as a Florida Imam had "lied" to him that a planned Islamic centre and mosque near Ground Zero in New York would be moved to some other place.

"I am actually very disappointed and very shocked because if this turns out to be true, he clearly, clearly lied to us," Jones said.
He made the remarks after Imam Muhammad Musri, a Florida Muslim leader, said that there was no deal on relocating the site of the Ground Zero mosque, which Jones had claimed.
Musri had earlier in the day appeared with Jones at a press conference.
Jones said the church "put a temporary hold" on the Quran burning event after he had been told by Musri of a deal to move the New York mosque and that he would be headed to New York City over the weekend for talks.
But the news of the deal was strongly refuted by Musri and Imam Feisal Abdul Rauf of the Islamic Centre.
"I am glad that Pastor Jones has decided not to burn any Qurans. However, I have not spoken to pastor Jones or Imam Musri. I am surprised by their announcement. We are not going to toy with our religion or any other. Nor are we going to barter. We are here to extend our hands to build peace and harmony," Rauf said in a statement.
An associate of pastor Jones said the Quran burning scheduled for Saturday was postponed until the proposed meeting in New York is confirmed.
The church will wait for 24 hours to confirm the meeting will take place before making any further decision about the Quran burning, said Wayne Sapp, associate pastor of the church headed by Jones.
The pastor's threat to burn copies of the holy Quran had stirred outrage in Islamic world, with Kings and Presidents of Muslim nations joining hands to condemn his plans and asking US President Barack Obama to intervene to stop it.
Obama, on his part, said, the pastor's move could lead to "recruitment bonanza for Al Qaeda." Non-Muslim nations have also condemned the pastor's plans.

Image: Dove World Outreach Center church pastor Terry Jones announces his decision to burn the Quran
Photograph: Scott Audette/Reuters