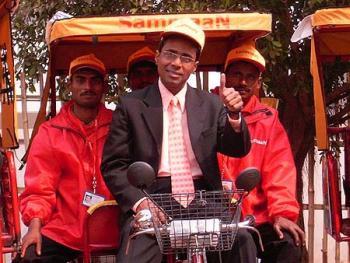 If India's queen of herbal beauty products Shahnaz Husain was the most conspicuous personality at the summit, Irfan Alam, popularly known as the 'rickshaw man from Bihar' for his innovative business model for empowering rickshaw-pullers, was the most garrulous.
Dressed in traditional Indian clothes during the conference and outside, Alam was always ready to talk about his concept and there were plenty who were interested.
Alam, an alumnus of the prestigious Indian Institute of Management-Ahmedabad, who founded the Sammaan Foundation, came up with the idea of equipping rickshaws with music, magazines, newspaper, first-aid kits, refreshments and advertisements, to help rickshaw-pullers.
Established in Patna in 2007 with 300 rickshaws, today more than 500,000 rickshaws across India are registered with his company.
"In India, there are 10 million rickshaw operators and each one feeds a family of five or six. So, it becomes 50 million — almost 5 percent of the Indian population," Alam told India Abroad.
"They are people who survive on bare minimum resources. They don't have access to education, financial security, social security, so on and so forth. Ninety percent of them come from rural India to urban India and they rent rickshaws. They end up paying 25 percent of their earnings as rent. They never own rickshaws. We have made them owners and made it very interesting for the corporates, because rickshaws reach the rural masses. We have made it a marketing engine and designed it in such a way that we have space for advertising as well as products."
"We are operating in over 30 towns," Alam added "We can say that if anyone wants to launch a product, we can give you access to more than 10 states overnight."
He said in the three years since he put in business model into action, "the foundation has not received any government funding. For the first year, we not only sustained, but even made a little profit. In the third year, we grossed Rs 400 lakh, out of which some Rs 42 lakh was profit."
Alam found the summit "a great platform to connect with like-minded people."
"You got to know there are people all around the world, who are doing something entrepreneurial, which is making a difference in the lives of people," he said. "Before coming here, we had been exposed only to our country, but now we know that we are not alone. I was amazed with the innovative initiatives of so many of the delegates and they too were taken with what I had done."
At an embassy reception for the Indian delegates, hosted by Arun Kumar Singh, deputy chief of mission, Alam said he wanted to gift a rickshaw to President Barack Obama, but was not allowed to bring one in time for the summit. "I would request the ambassador to help me," he said.
Alam added that US Ambassador to India Timothy Roemer drove one of his rickshaws in Patna during a recent visit to the city. "He ran it for about 200 meters and said, 'It is good exercise, I would love to do it again'," he said.