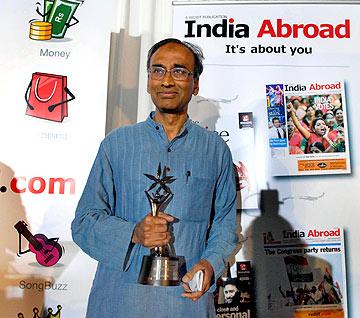 For Venkatraman Ramakrishnan, the road to international public recognition was spotted with periods of doubt and uncertainty.
True, he was a good student with a deep interest in science. But Venki, as he is known to friends and family, could not get into the Indian Institutes of Technology and at least one medical college, partly because the family rejected the idea of prep classes.
Relying on a National Talent Search Competition scholarship, he ducked a career in medicine for his preferred area: science.
Just 19, Venki decided to travel to the United States for further studies, and earn his PhD from the second-tier physics programme at Ohio University in 1976. Then, convinced that physics was not his thing, he switched streams and studied graduate-level biology for two years at the University of California, San Diego.
Usually, such uncertainty can sound the death knell for any career in science, and 50 universities rejected his job applications. And even when he did get a job, Venki realised had not found quite what he wanted.
And then, Venki came upon his muse, a syncretic blend of all his fields of expertise: Structural biology, specifically the structure and function of the ribosomes.
Last year, that dedication paid off in spades, when Dr Ramakrishnan was named the Nobel Prize winner in Chemistry 2009.
Given his tremendous achievement -- only seven Indians and people of Indian-origin have so been honoured with a Nobel Prize -- it was no surprise that, even during a year of exceptional achievement by members of the Indian-American community, Dr Ramakrishnan would be named India Abroad Person of the Year 2009.
He was presented with the award at the seventh annual India Abroad Person of the Year Awards gala on March 5 in New York City. The event brought together the who's who of the Indian-American community, and was held at the National Museum of the American Indian in the magnificent Alexander Hamilton US Customs House, a stone's throw from the financial district's famed Wall Street Bull.  
The grand 103-year-old building, a popular site for Hollywood film settings, was the perfect venue for the star-studded ceremony; its main rotunda -- the ultra-high ceiling of which is decorated with larger-than-life murals depicting the building's history as New York City's old federal custom house -- was lit by a combination of six Roman pillar-style torches, and added the ideal ambience for the three-hour ceremony, which saw leaders of Indian-origin from the fields of politics, business, public service, education, media and the arts.
India Abroad -- the oldest and most widely circulated weekly newspaper serving the Indian Diaspora, which celebrates its 40th anniversary this year, and is owned by rediff.com -- has now presented eight of its coveted Person of the Year Awards.
Past India Abroad Persons of the Year include Iowa state legislator Swati Dandekar (2002), Indicorps co-founder Sonal Shah (2003), captain of the silver medal-winning US gymnastic team at the Athens Olympics Mohini Bhardwaj (2004), then US Congressman and current Louisiana Governor Bobby Jindal (2005), PepsiCo Chairperson and CEO Indra Nooyi (2006), acclaimed filmmaker Mira Nair (2007), and Fareed Zakaria, Newsweek International Editor and host of CNN's Fareed Zakaria GPS (2008). 
And while the naming of the India Abroad Person of the Year has culminated each event, over the years India Abroad has introduced other awards, like the Lifetime Achievement Award and Face of the Future award, to reflect the growing influence and accomplishments of the Indian-American community.
This year, a total of nine awards were presented in seven categories. 
After a pre-event cocktail hour, the event began at 7 pn EST, with Columbia University Journalism School Professor Sreenath Sreenivasan again serving as the Master of Ceremonies, handling the IAPOY mic with characteristic wit and charm for the sixth time in seven years.
India Abroad Publisher and Rediff.com Founder and CEO Ajit Balakrishnan spoke about how things have changed for the Indian-American community during the 40 years India Abroad has been in existence, and how the India Abroad Person of the Year awards have evolved from one award in 2002 to seven this year.
The first award on Friday evening, the India Abroad Young Achiever 2009, was presented to Kavya Shivashankar, who last year continued the Indian-American community's dominance as America's spelling champions by correctly spelling 'Laodicean' to win the Scripps National Spelling Bee 2009. The 13-year-old Shivashankar gave a touching acceptance speech, all the while cheered on by the audience and her family, particularly younger sister Vanya who herself is a budding spelling star. In a stirring display of maturity, she spoke to her peers, and advised them that with hard work and dedication, any goal can be achieved.
Next, the India Abroad Gopal Raju Award for Community Service 2009 went to the South Asian Council for Social Services and its Executive Director Sudha Acharya, for the decade-old SACSS's support and empowerment of South Asian immigrants in America.
In the wake of the 9/11 terror attacks, SACSS, working on a shoe-string budget, helped relatives of South Asian victims piece their lives back together, particularly by providing free immigration counseling. It has since expanded its array of services to the community. At an event graced by so many successful community figures, it was Acharya who told the crowd that a full 33 per cent of South Asians in New York state are without health insurance, a reminder that vigilance is always necessary, and that there is always room for improvement.
 
Dr Priyamvada Natarajan, professor of astronomy and physics at Yale University, was named the India Abroad Face of the Future 2009, an award which recognises the promise of glittering future achievement. Dr Natarajan has already achieved much, having earned a Guggenheim Fellowship in 2009 and discovering the theoretical upper limit to black holes in 2008. Mathematician Dr Manjul Bhargava, the youngest full professor at Princeton University and who last year was named the inaugural India Abroad Face of the Future, was on hand to present Dr Natarajan with her award along with Vonage Chief Marketing Officer Jamie Haenggi. Vonage were the presenting sponsors for the event.
The India Abroad Award for Lifetime Service to the Community 2009 was then presented to investment banker, community leader and philanthropist Sreedhar Menon. A man who lets his actions do the bulk of his talking, Menon delivered a fine speech befitting his status as a bedrock of the Indian-American community.
With the event reaching midpoint, Sreenivasan directed the nearly 250 guests's attention to a spectacular dinner and dessert. Above the tinkle of silverware meeting plates and wine glasses clinking in convivial cheers, conversation was heard from the likes of US Attorney for the Southern District of New York Preet Bharara, Indian diplomats Ambassadors Prabhu Dayal and Manjeev Singh Puri, The Huffington Post Managing Editor Jai Singh, CNBC Managing Editor Nik Deogun, lawyer Vanita Gupta who on April 1 takes over as deputy legal director of the American Civil Liberties Union, actor Aasif Mandvi, and oncologist Dr Dattatreyudu Nori among others.
After the lavish dinner, the invitees learned that, for the first time there would be more than one winner of the India Abroad Publisher's Special Award for Excellence. Owing to the community's unprecedented gains this past year, the move to give three awards was necessary, Sreenivasan explained.
Balakrishnan again took to the stage to present the India Abroad Special Awards for Excellence to National Public Radio's Morning Edition Executive Producer Madhulika Sikka, The Washington Post Managing Editor Raju Narisetti, and Otterbein College Professor Abhijat Joshi, who is best known as the co-writer of Bollywood blockbusters 3 Idiots and Lage Raho Munnabhai. All three gave acceptance speeches marked by wit and grace.
In the past, the Publisher's Special Award has been won by the likes of astronaut Sunita Williams (2006), who memorably greeted the awards ceremony from space, and Pulitzer Prize-winning novelist Jhumpa Lahiri (2008).  
Next, the India Abroad Award for Lifetime Achievement 2009 was presented to Lahiri's publisher Ajai Singh 'Sonny' Mehta, a titan in the world of books and the publisher and editor-in-chief of Alfred A Knopf. Fittingly, writer Suketu Mehta -- whose book on Mumbai, Maximum City, was edited by Sonny Mehta -- and actress and legendary food writer Madhur Jaffrey presented the award to Mehta, whose wife writer Gita Mehta, Orissa Chief Minister Naveen Patnaik's elder sister, was present.  
 
In his moving speech, Sonny Mehta noted, "I could not have become a publisher if I had not been raised and educated in India. India gave me my love of books and my obsession with reading. When we were young reading was our most important form of recreation. But when I see the proliferation of bookshops, book fairs, and literary festivals in India today, and when I read the extraordinary work coming from the sub-continent every year, I am reassured that books are as important to Indians now as they were in the past, and I am confident that the future of the book is safe."
The litany of successful authors and the battery of bestsellers in Mehta's career are legendary. So, in Mehta's case, when it came time for a congratulatory message, there was no dearth of options. 
Still, the crowd was positively amazed when, via a video address, former US President Bill Clinton congratulated India Abroad on 40 years of publishing and congratulated Sonny Mehta, who published Clinton's bestselling memoir, My Life, and all the other winners.
But the event had still not reached the grand finale, the presentation of the India Abroad Person of the Year Award 2009.
Fareed Zakaria, India Abroad Person of the Year 2008, announced the winner via a video message, and congratulated Dr Ramakrishnan with characteristic eloquence.
Finally, to put a definitive seal of excellence on a banner year of Indian-American success, Dr Ramakrishnan graciously accepted the 2009 India Abroad Person of the Year Award, and delivered an extraordinary speech marked by the astounding humility he is famous for. He used his time to praise Indian scientists, and added that all his recent visits to India have convinced him of the country's imminent rise.
Image: Nobel Laureate Dr Venkatraman Ramakrishnan, India Abroad Person of the Year 2009, poses with his trophy | Photograph: Paresh Gandhi