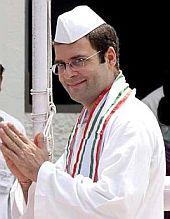 Describing Rahul Gandhi as "a very frank person", billionaire philanthropist Bill Gates has said the Gandhi family scion's openness about the country's healthcare is "refreshing".
Gates, who is the co-chair of the Bill & Melinda Gates Foundation, made these remarks in his annual letter while recalling his experiences during his India visit last year.
Noting that the health statistics from the northern part of the country are "terrible", he said the government was committed to increase its focus and spending on health.
According to Gates, Rahul Gandhi is part of a new generation of political leaders focused on making sure healthcare investments are well spent.
'Rahul (Gandhi) was very frank in saying that a lot of the money is not getting to the intended recipients and that it won't be easy to fix right away. His openness was refreshing, since many politicians won't say anything that might discourage a donor from giving more,' Gates wrote in the letter.
Gandhi explained how organising local groups, mainly of women, and ensuring they watched over spending, 'is one tactic he has seen making a big difference', the letter said.
Among others, the Foundation runs an HIV/AIDS prevention initiative in the country.

'The long-term commitment to measuring results and improving the delivery systems that I heard from him (Gandhi) and other young politicians assured me that healthcare in India will improve substantially in the decade ahead,' Gates said.
The Microsoft founder-chairman said that even though the acute financial crisis is over, the global economy is still weak. The world would spend a lot of years undoing the damage done by the turmoil, Bill Gates wrote in the letter.

'Despite the tough economy, I am still very optimistic about the progress we can make in the years ahead. A combination of scientific innovations and great leaders who are working on behalf of the world's poorest people will continue to improve the human condition,' Gates wrote.
He noted the most important innovation required to avoid the problem of climate change would be to produce electricity that is cheaper than coal and a method that does not emit any greenhouse gases.

'There will be a huge market for this, and governments should supply large amounts of funding for basic R&D,' Gates added.
The private foundation has committed more than $21 billion in grants since its inception in 1994 and had endowments worth $34.17 billion as on September 30, 2009.