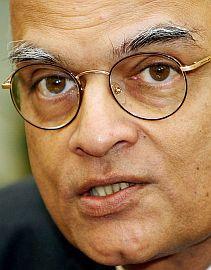 Shiv Shankar Menon has been appointed as India's new National Security Advisor, sources in the Prime Minister's Office informed on Thursday.
An official order in this regard will be issued later in the day.
Menon retired as Foreign Secretary in August, ending a career marked him out as one of India's best bureaucrats to hold the post. The fact that he superseded 12 seniors to be appointed to the post in 2006 when his equally capable predecessor Shyam Saran retired has more than paid off.
Earlier, as India's envoy in Pakistan, Sri Lanka and China, and while handling Nepal in New Delhi, he chose the JN Dixit approach of 'neighbourhood first'.

As a middle-level officer in Vienna and later as the MEA representative in the Department of Atomic Energy, he found no difficulty in getting his mind around complex disarmament and proliferation issues.