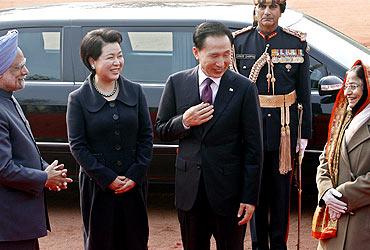 India and South Korea on Monday signed an agreement on transfer of sentenced prisoners and three other pacts and discussed the prospects of cooperation in civil nuclear field amid South Korea's keen interest.
Prime Minister Manmohan Singh and South Korean President Lee Myung-Bak held wide-ranging talks, discussing ways to boost bilateral cooperation across the board, with particular focus on trade and investment.
Among various issues, the two leaders are understood to have discussed the possibility of cooperation in civil nuclear field, particularly with regard to technology.
South Korea is keen to forge cooperation in this field, with its president underlining that the country had expertise and the collaboration would be 'productive.'
South Korea is a member of Nuclear Suppliers Group and had supported waiver for India at the meeting of 45-nation grouping in September 2008.
After the talks, the two sides signed four pacts. These are Agreement on Transfer of Sentenced Prisoners, Memorandum of Understanding on cooperation in IT and Services, MoU on Peaceful Uses of Outer Space and a Programme of Cooperation in Science and Technology from 2010-12.
South Korea also has a competitive edge in sectors like IT and communication, Lee said at a meeting with Indian business leaders.
"This is an area where I think we can have positive results if we cooperate," he added. India and South Korea operationalised from January 1 the Comprehensive Economic Partnership Agreement which is expected to enhance economic ties.
Image: South Korean President Lee Myung-bak (3rd L), his Indian counterpart Pratibha Patil (R), Prime Minister Manmohan Singh (L) and Lee's wife Kim Yoon-ok (2nd L) smile during Lee's ceremonial reception at the presidential palace in New Delhi on Monday
Photograph: B Mathur / Reuters