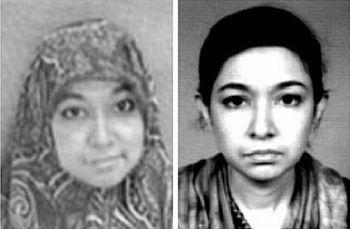 A US-trained Pakistani woman neuroscientist, who has been accused of shooting at American military officers and FBI agents, evicted out of the court on the first day of her trial after she shouted that the prosecution's first witness was lying.
Aafia Siddiqui exploded into an disjointed protest shortly after the first witness, US Army Captain Jack Snyder, began testifying about a paper on which the defendant allegedly had written words like "radiation material", "dirty bomber", and names of New York City landmarks, including Brooklyn Bridge and Empire State Building.
"I was never planning a bombing! You're lying!" Siddiqui shouted as she was rushed out of court. Her outburst came less than two hours after the trial began in federal court in Manhattan. The prosecutors requested that Siddiqui not be allowed back in for the rest of the trial that is expected to last about 10 days.
The defendant, herself, has refused to participate in the court proceedings, several times, and does not recognise her defence team retained by the Pakistani government including, Charles Swift, who is well know for being the lawyer for Osama bin Laden's driver Salim Hamadan.

Siddiqui was picked up by Afghan forces after she was found wandering around the governor's house in the city of Ghazni with a small boy, the alleged handwritten paper and a thumb drive with more notes in many languages including Urdu.
After opening statements from both sides, the prosecutor presented three witnesses who proceeded to describe how the defendant had picked up a M4 rifle that had been left unsecured by one a military official during her interrogation in the police headquarters in Ghazni.

Snyder recalled that the gun was pointed straight at his head and being able to see in the barrel of the gun.

"I used the arms of my chair to spring out of my seat and get out of the line of the fire," he said.

The defence team intends to show that the suspicious material that the defendant allegedly had on her person is not credible as it changed hands several times between Afghan and American officials, and also that the petite 90 pound, Siddiqui, could not have lifted a M4 much less fired it.

The defendant, 37, who studied at Massachusetts Institute of Technology, has also been described as an Al Qaeda sympathiser but this case is only about whether she shot the army personnel and she is not facing any terrorism-related charges.

Siddiqui left the United States for Pakistan in 2002. The following year she disappeared from Pakistan and suddenly resurfaced in 2008 in front of the governor's house in Afghanistan. It is believed that the US authorities held her during this time.