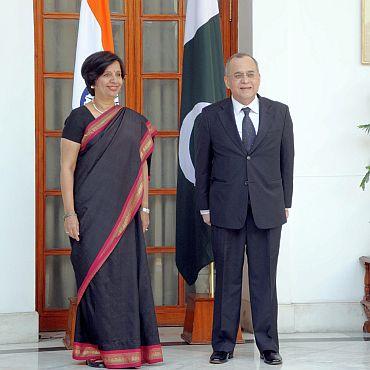 Following is the transcript of Indian Foreign Secretary Nirupama Rao's media interaction:

"In response to my invitation, the Foreign Secretary of Pakistan, Mr Salman Bashir, is in India leading a 13 member delegation. Mr Bashir and I held talks this morning assisted by our respective delegations. 

My invitation to the Pakistan Foreign Secretary was in keeping with the Government of India's firm conviction that we must not shut the door on dialogue with Pakistan, and that such dialogue, if it gathers momentum, holds tremendous potential for the progress and well-being of the people of our region.
The sincere and genuine efforts we have made in past years in this direction have, however, been repeatedly thwarted by acts of terrorism, culminating in the barbaric attack in Mumbai. The Mumbai attack erased the trust and confidence that the two countries had painstakingly built during the period 2004-07. The recent Pune attack, which is still under investigation, is yet another reminder that our citizens remain vulnerable to terrorist violence. 

We went into today's talks with an open mind, but fully conscious of the limitations imposed by the large trust deficit between the two countries. In line with our graduated and step by step approach, our aims were modest; we had a useful discussion, during which I spelt out forthrightly our concerns on terrorism emanating from Pakistan against India. 

I told my Pakistani counterpart that terrorism cannot advance any cause, but the cause of senseless violence and that it is the solemn duty of states to eliminate all terrorist groups, operating from their soil, regardless of their ideology or agenda.
While acknowledging the steps taken so far by Pakistan to bring the Mumbai perpetrators to book, I pointed out that these did not go far enough to unravel the full conspiracy behind the Mumbai attack and to award exemplary punishment to all culprits. I stressed the importance of expeditious action by Pakistan on these issues, including by following up on the leads that have emerged following the arrest in the United States of David Coleman Headley and Tahawuur Hussain Rana.
It was pointed out that the Mumbai attack was a symptom of a larger problem -- that of the continued existence and unhindered activities of organisations, such as Lashkar-e-Toiba/ Jamaat ud Dawa, Hizb ul Mujahideen etc. from Pakistani territory and territory under Pakistan's control to perpetrate terrorist violence against India. This was an ample evidence during the rallies held by these organisations in major cities of Pakistan and PoK on February 5, which openly incited terrorist violence against India. It was emphasized that the Government of India could not but take a serious note of such actions as it was duty bound to ensure the security of its citizens.
At the same time, we said it was the duty of Government of Pakistan to take effective action to dismantle and put an end to the activities of all such organisations. The issue of terrorist infiltration and ceasefire violations across the Line of Control and International Border was also taken up.
We called upon Pakistan to investigate the claim made by a hitherto unknown organisation, Lashkar-e-Toiba Al Almi and a separate claim by Ilyas Kahmiri's owning responsibility for the recent Pune blast. Additional information on terrorist activities against India emanating from Pakistan was also handed over to the Pakistani side for investigation and appropriate action. 

Pakistan raised certain other issues and we responded appropriately, reiterating our national position on these issues. 

I told the Pakistan Foreign Secretary that we have all along believed in the approach to resolve all outstanding issues between the two countries through bilateral dialogue in an atmosphere free of terror and violence. If we are to build upon the past discussions at an appropriate time, trust and confidence between us must be restored. 

We have set out to take a first step towards rebuilding trust and I believe my meeting with the Pakistan Foreign Secretary has constituted that first step. We have agreed to remain in touch and continue endeavour to restore trust. It was also decided to address urgent humanitarian matters."

Transcript of Q & A follows...