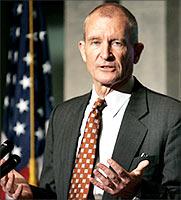 Pakistan is continuing support to the Taliban and the Haqqani network as part of its backup plan to secure their western border in case the United States leaves Afghanistan, a top US intelligence official has said.
"They've got a backup plan," Dennis C Blair, director of the National Intelligence told a Congressional hearing saying that by continuing to support the Taliban and the Haqqani network, Pakistan is playing both ends against the middle.
Though Islamabad has been saying that it has snapped its links with the Taliban, Blair's comments clearly reflect the US view that Pakistan is maintaining ties and support to these groups.
The US national intelligence chief said that Islamabad also continues to provide support to other Pakistan groups that were operating in Afghanistan.
He said the safe havens that the insurgents have in Pakistan's tribal areas is Al Qaeda's most important outside support.
"Disrupting that safe haven won't be sufficient by itself to defeat the insurgency in Afghanistan, but disrupting that presence in Pakistan is a necessary condition for making overall progress in Afghanistan," he said.
Blair told the Senate hearing that the jump in terrorist attacks within the country had made Pakistani public more concerned about the threat from Islamic extremists including the Al Qaeda.
"Pakistanis continue to support the use of military force against insurgents in their country and Islamabad has demonstrated determination and persistence in combating the militants," he said.
Elaborating on US plans, Blair said, "I think our job is to work together so that their plan and our plan is the same one. But it has its roots in this historical memory and in the geographic strategic position of Pakistan."
"One of the main things affecting Pakistani thinking is the events of the early 1990s when after the Soviet Union left Afghanistan, the United States did the same," he said.
"The Pakistanis, I think, understand what we feel, that they do not want an unfriendly country on their western border that is hostile to them," he added.
"Looking to the future, US and coalition successes against the insurgency in Afghanistan could provide new long-term incentives for Pakistan to take steps against Afghan-focused militants and increased Pakistani cooperation is more likely if Pakistan is persuaded that the United States is committed to stabilszing Afghanistan and is capable of doing so," Blair said.
Image: Director of US National Intelligence David C Blair
Photograph: Reuters