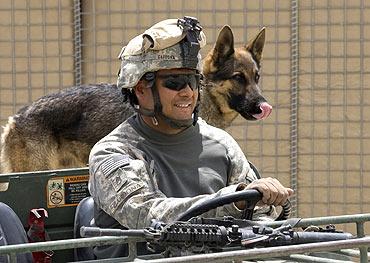 Canines first entered the United States armed services in 1942, during World War II. Today, the dogs are still providing support to the troops on the battlefield.
The dogs may have to live in a war zone and in heat that can soar to 45 degrees centigrade, but otherwise it's pretty much a dog's life for the Labradors, Springer spaniels and German shepherds that make up the canine unit in Afghanistan.
According to media reports, the US has about 2,800 military dogs, the largest canine force in the world.
According to media reports, along with about 37,000 US and NATO troops, the number of military working dogs being brought into Afghanistan to search for mines, explosives and to accompany soldiers on patrol is increasing substantially. Since September 11, 2001, the US Defence Department has substantially increased the number of military dogs in service.
A single dog can search more area in less time than an entire company could do.

Knowing commands taught by the dog handler, the dogs search for improvised explosive devices, weapons caches and other devices meant to harm Coalition troops and local citizens.
When not on missions, the dogs train daily to sustain their skills. But building a canine team doesn't come cheap. While training can take 4 to 6 months, the programme could cost around $100,000 per dog.
The Taliban are aware of the dogs being used and have tried unsuccessfully to hide the scents of their explosive devices by wrapping them in cotton.
In the words of a soldier, who didn't want to be identified: "The handler is responsible for everything dealing with the dog. You feed him, clean up after him and take care of him. There is a never-ending loyalty with these dogs. They would save my life and I would save theirs."
Image: A US soldier drives a vehicle with his dog at the Forward Operating Base (FOB) Airborne in the mountains of Wardak Province, Afghanistan
Photograph: Shamil Zhumatov/Reuters