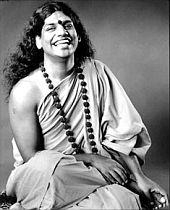 Swami Nityananda, who has remained elusive since the sex scandal against him broke out, was arrested on Wednesday by a Bangalore Police team from Solan in Himachal Pradesh.
A court in Sriperambadur, Tamil Nadu, had directed the investigating agencies to carry out the arrest and produce him before the court on April 20. However, the police were unable to carry out the arrest.


The police finally tracked the swami down to Himachal Pradesh where he had been in hiding ever since the case emerged. However, sources told rediff.com that the swami will not be brought down to Bangalore, where he is facing charges, but instead produced before the Sriperambudur court.

The Bangalore police will then seek custody of the swami and conduct further investigation.


HS Chandramouli, counsel for the swami, did not confirm the arrest, but added that the anticipatory bail plea will now become infructitious.

He stated that if his client had indeed been arrested, he will move a fresh application seeking regular bail before the Ramnagar court near Bangalore under whose jurisdiction the swami's ashram falls.
A local court in Ramanagara in Karnataka on Wednesday dismissed the anticipatory bail application filed by self-styled godman Nityananda Swami.
Session Court Judge Hungund dismissed the bail plea after it was brought to the court's notice that Nityananda had been taken into custody.
The judge had on Tuesday posted the case for orders today.
Meanwhile, the Karnataka high court today posted the hearing of Nityananda's petition, praying for quashing of criminal cases against him, on April 23.