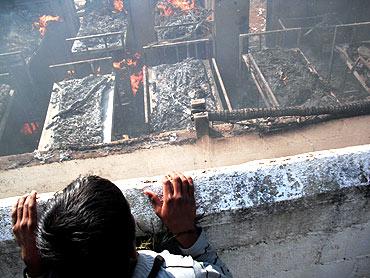 Self-styled godman Swami Nityanand has gone "missing" after video footage of his alleged sleazy acts were aired on a leading Tamil TV channel in Chennai, which were dismissed by his ashram as "morphed images."
"He is missing," said Devaraj, deputy superintendent of police of Ramanagaram district, under whose limits the ashram is located at Bidadi near Bangalore. The Bangalore-based ashram manager Sevananda filed a complaint with police, stating he had received threatening calls from Chennai.

In the complaint, Sevananada said the caller threatened to provide the "footage" to the media and had demanded money not to release it. Sevananada said the clippings showing Swami in poor light were "morphed".
Meanwhile, activists of "Jaya Karnataka" an organization founded by former underworld don Muthappa Rai, damaged banners and buntings and window panes of the ashram building, alleging that Rai's name was being misused to threaten some devotees.

Police said they have rushed forces to protect properties of the ashram and are yet to register a case.
Image: A fire broke out at the Ashram in Bidadi, Karnataka.
Photograph: Gangadhar Patil