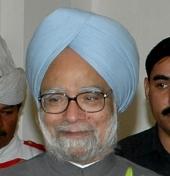 Prime Minister Dr Manmohan Singh could meet his Pakistani counterpart Yousuf Raza Gilani on the sidelines of the Commonwealth heads of government meeting scheduled to be held in November in Trinidad, sources said.
Highly placed diplomatic sources said there is a high possibility that both leaders could meet in Trinindad, The Dawn reports.
However, when asked about the meeting, External Affairs Minister S M Krishna, who met his Pakistani counterpart Shah Mehmood Qureshi in New York on Sunday, said,: "We have just come out of one (meeting). So, give us some time."
The meeting between Krishna and Qureshi was centered on the progress of the investigations regarding the Mumbai terror attack.
This was first high-level contact between the countries since the prime ministers of both the countries met in Sharm El-Sheikh, Egypt in July.
Earlier, at the United Nations General Assembly, Krishna said the Mumbai terror attack was the focal point of his talks with Qureshi.
Krishna added, "There cannot be any justification whatsoever for such mindless terrorist acts. It is our collective responsibility and duty to work together to ensure that terrorists, organisers, perpetrators and supporters of such crimes are brought to justice."