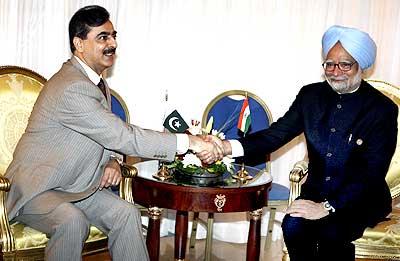 Prime Minister Manmohan Singh and his Pakistani counterpart Yousuf Raza Gilani met in Sharm el-Sheikh in Egypt on the sidelines of the Non-Aligned Movement summit on Thursday.
Dr Singh and Gilani are understood to have assessed what actions Islamabad has taken to bring to justice the perpetrators of the terror attack on Mumbai.
External Affairs Minister S M Krishna and his Pakistani counterpart Shah Mehmood Qureshi were present during the Dr Singh-Gilani meeting. National Security Adviser M K Narayanan also attended the meeting.
As a precursor to the second top-level meeting between India and Pakistan since the Mumbai attacks, foreign secretaries of the two countries had several rounds of discussions, with New Delhi seeking information about the steps taken by Islamabad.
At the start of their meeting, Dr Singh and Gilani warmly shook hands and posed for photographs. Dr Singh did not make any comment on being asked whether he was hopeful about outcome of the talks with Gilani.
Prime Minister Singh had on Wednesday made a strong pitch for dismantling of terror infrastructure and asked countries not to provide safe havens for terrorists.
"In recent years, terrorist groups have become more sophisticated, more organised and more daring. Terrorists and those who aid and abet them must be brought to justice," he
said, addressing the plenary session of the two-day summit of the 118-member NAM, where his Pakistani counterpart was also present.
The discussions between the two top leaders are also believed to have covered the flip-flop in Pakistan over the detention and release of Jammat-ud-Dawa chief Hafiz Mohammad Saeed, a key accused in the Mumbai terror attacks.
In his address to the NAM Summit, Gilani had said that there had been a forward movement in Pakistan's relations with India and Islamabad hoped to sustain the momentum and move towards a comprehensive engagement.
Islamabad has been pushing for resumption of the composite dialogue process that has been stalled since the Mumbai terror strikes in November last year.
After their meeting, Dr Singh and Gilani are expected to come out with a joint statement or address a joint media briefing.
The meeting between Dr Singh and Gilani comes six days after Pakistan handed over a fresh dossier on its probe into the Mumbai terror attacks to India.
Dr Singh in June met President Asif Ali Zardari on the sidelines of the Shanghai Cooperation Organisation's summit in Russia, when he bluntly told the Pakistani leader to take action to stop terrorism against India emanating from his country's soil.
The June 16 meeting between Dr Singh and Zardari was the first top-level contact between the two countries since the Mumbai terror attacks in November.
Image: Prime Minister Manmohan Singh with Pakistan's Prime Minister Yousaf Raza Gilani during the 15th Non-Aligned Movement summit in the Egyptian Red Sea tourist resort of Sharm el-Sheikh on Thursday.
Photograph: Amr Abdallah Dalsh/Reuters