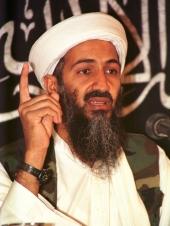 Al Qaeda chief Osama bin Laden has issued a threat against European countries, asking them to withdraw their troops from Afghanistan, or face blasts similar to the Madrid and London bombings.
In a video posted on Islamic militant websites, Osama's warning, though addressed to Europeans generally, seemed to be directed at Germany, since it had both English and German subtitles and the timing coincides with the country's parliamentary elections.
"If today Europe is suffering the travails of the economic crisis, and the heart of Europe is no longer No. 1 in world exports, and America is reeling from the hemorrhage caused by the economic war, then how do you think you will fare after America pulls out, Allah permitting, for us to retaliate from the oppressor on behalf of the oppressed," the New York Times quoted Osama as saying.
Germany, which has 4,200 troops deployed in Afghanistan, is under immense domestic pressure to reconsider its role in the Afghanistan war, especially after its forces called in a North Atlantic Treaty Organisation air-strike this month that left scores of Afghans dead.
The recording, which blames European soldiers of killing women and children under the NATO mandate, says, "So on what basis are you violating what you talk about holding in high esteem, like justice and human rights? You are aware that oppression topples those who commit it and injustice has unhealthy consequences for the unjust."
Europeans would "understand the causes of the bloody events in Madrid and London," it said, if they were to see what the United States and its allies have done in Afghanistan.
Following the fourth Al Oaeda warning in recent months, Germany has put its security on high-alert.
German security officials said they thought the Taliban and Al Qaeda had coordinated their threats. "We are very worried and all our security forces are on high alert," said a senior security official.
"The fact that bin Laden's message was published with German subtitles is underlining the fact that we have to take it seriously," an official told the paper.
The official added that foreign intelligence agencies, including American, Israeli and Arab, had warned Germany that the 'the threat is serious'.