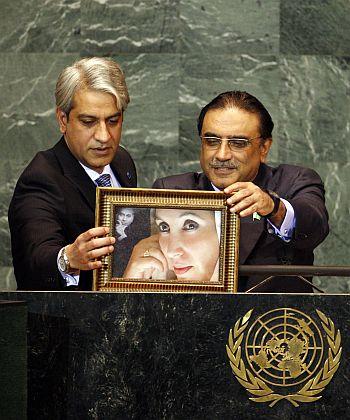 Pakistan on Friday told the United Nations General Assembly that Islamabad looks forward to the resumption of the composite dialogue process with New Delhi and wants friendly relations with India.
"We believe that dialogue is the only way forward. The absence of dialogues leads to tensions that must be avoided," Pakistan President Asif Ali Zardari said in his brief ten-minute address to the UNGA.
"We seek peaceful resolution of all outstanding issues with India and meaningful progress towards the resolution of the Kashmir dispute is necessary for a durable peace and stability in South Asia," Zardari said.
The Pakistan president said that all nations seek security as peace and security are interlinked and therefore Islamabad supports all efforts for arms control and disarmament.
"Imbalances at security, especially at regional level needs to be addressed," Zardari said without naming any region or country in particular.
He said Pakistan will continue to play a constructive role in promoting conflict resolution in South Asia and in promoting initiatives on nuclear disarmament
His said that Pakistan's priority is economic development and it seeks partnership and to promote regional trade and economic cooperation.
"A democratic Pakistan will uphold the principles of the United Nations," he said.
In his first UN address Zardari evidently turned emotional about his late wife Benazir Bhutto, the former Prime Minister of Pakistan.
Before starting his address, Zardari placed a photo of Bhutto in front of the microphone and mentioned at the very begging of his speech how she laid down her life for the cause of democracy.
"Democracy has finally prevailed in Pakistan and the rule of law has returned," Zardari said, adding that it is important for both Pakistan, the region and the world.
Calling Benazir Bhutto her leader, Zardari said that he is following her path. "In the words of my leader Benazir Bhutto, time, justice and forces of history are on our side."
Image: Pakistan President Asif Ali Zardari adjusts a photograph of his late wife Benazir Bhutto before his address to 64th United Nations General Assembly in New York on Friday
Photograph: Mike Segar / Reuters