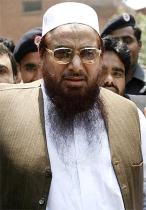 India's protests to Pakistan about prosecuting Lashkar-e-Tayiba founder Mohammad Saeed are pointless, sources in the Intelligence Bureau, India's domestic intelligence agency, told this reporter on Tuesday.
The Pakistan government will never be able to take steps against Saeed -- the alleged mastermind of the Mumbai terror attacks -- as he could expose the role played by the Inter Services Intelligence and the Pakistan army in planning the attacks, the IB sources felt.
Saeed, left, was arrested by the Pakistan government in December 2008 for allegedly planning the 26/11 attacks. He was released by the Lahore high court in June, citing lack of evidence. On Monday, the Pakistan government again placed Saeed under house arrest.
The Pakistan government coaxed Saeed into accepting the terms of the house arrest, IB sources told rediff.com
The ISI usually eliminates anyone who threatens to divulge information about its terror-related activities, the IB sources added, but could not do so in Saeed's case. He is considered to be the Lashkar's heartbeat; the Lashkar is considered the best organised and most dangerous terror outfit operating against India.
Under pressure, the sources said, Saeed could threaten to spill the beans about the links between the ISI, the Pakistan army and the ten terrorists who carried out the attacks on Mumbai last November. While a wing of the Pakistan navy trained the terrorists, the sources added, the ISI raised funds to sponsor the attacks.
Saeed's fiery speeches have lured hundreds of Pakistani and other South Asian youth to join the jihad bandwagon. Sabahuddin Ahmed and Fahim Ansari, the two Indians currently facing trial in the Mumbai terror attacks case along with prime accused Mohammed Ajmal Kasab, have explained that Saeed's speeches prompted them to join the Lashkar.
Over 90 per cent of Lashkar's recruits have never met Saeed, but continue to be influenced by his anti-India propaganda, the IB sources said.
Kasab, the lone terrorist arrested during the terror attacks on Mumbai, told his interrogators that Saeed visited the terror training camps on several occasions. It was Saeed who told the ten terrorists that it was time to attack Mumbai, the IB sources noted.
Also read: How a former Pakistani commando became a terrorist