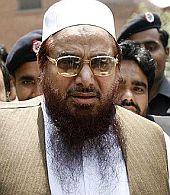 Hafiz Mohammad Saeed, the chief of Jamaat-ud-Dawah accused by India of masterminding the Mumbai terrorist attacks last year, was placed "under house arrest"  on Monday for inciting people to wage jehad.      

Lahore police chief Pervaiz Rathore said Saeed's movements had been restricted in connection with two cases registered against him in Faisalabad city last week for making speeches during which he incited people to wage jehad and sought funds for the banned JuD.      
"We have put him under house arrest and told him verbally that he cannot move out of his residence. At the moment, he cannot leave the house," Rathore told PTI. Asked if the police planned to take more action against Saeed in connection with the two First Information Reports registered against him, Rathore replied: "Certainly we will proceed further."    

A large police contingent was deployed outside Saeed's home in Johar Town area of Lahore late last night to restrict his movements. However, officials said no formal written order had been issued for placing Saeed under house arrest. It is expected that a written order on Saeed's detention will be issued by authorities after the end of the three-day Eid-ul-Fitr holidays, which began on Monday. Earlier this morning, police barred Saeed, also the founder of the banned Lashker-e-Taiba that has been blamed for carrying out the Mumbai attacks, from leaving his home to lead Eid prayers near the Gaddafi Stadium in this eastern Pakistani city. 

Superintendent of Police (Lahore division) Sohail Sukhera said Saeed's movements had been restricted due to concerns for his security. "We have only stopped Saeed from offering Eid prayers  at a ground near Gaddafi Stadium to ensure the safety of him and his people. We have intelligence information in this regard and that is why we cannot allow him to move freely,"
Sukhera said.The Eid prayers at the ground near Gaddafi Stadium were later led by Saeed's son. Saeed was allowed to attend prayers at a local mosque.     

The move to restrict Saeed's movements comes days ahead of meetings between the Foreign Secretaries and Foreign
Ministers of India and Pakistan on the sidelines of the UN General Assembly in New York.     

A JuD spokesman said the group had received "no formal order" regarding Saeed's detention. He claimed the Pakistan
government was taking action against Saeed due to pressure from India and the US. The spokesman also said the government's action amounted to a violation of Saeed's "basic human rights" and the JuD would challenge it in court.     

Last week, police in Faisalabad registered two FIRs under the Anti-Terrorism Act against Saeed for making speeches
in which he incited people to wage jehad against infidels and sought funds for his banned group.  

Saeed was placed under house arrest in December last year after the JuD was declared a terrorist organisation by the UN Security Council. He was freed on the orders of the Lahore High Court in June.     

The federal and Punjab governments filed appeals against the High Court's order in the Supreme Court but the matter is yet to be listed for hearing. Meanwhile, Saeed's lawyer A K Dogar said his client was being "victimised" by the Pakistan Government which restricted his movement and barred him from attending Eid prayers.

He also took objection to Indian Home Minister P Chidambaram's remarks that the evidence against Saeed is in Pakistan.
"India's Home Minister is not right because whatever has happened it has happened in India. If someone connected to HafiZ Saeed has done it, let it be brought to me... I'll stop being his lawyer," he said.